The Precious Metals Week in Review
August 4th,2017
1. It was another volatile week as markets awaited the release of the US Non-Farm Payrolls report for July. The US dollar continued to decline against its global counterparts ahead of the report, dropping further into bear market territory.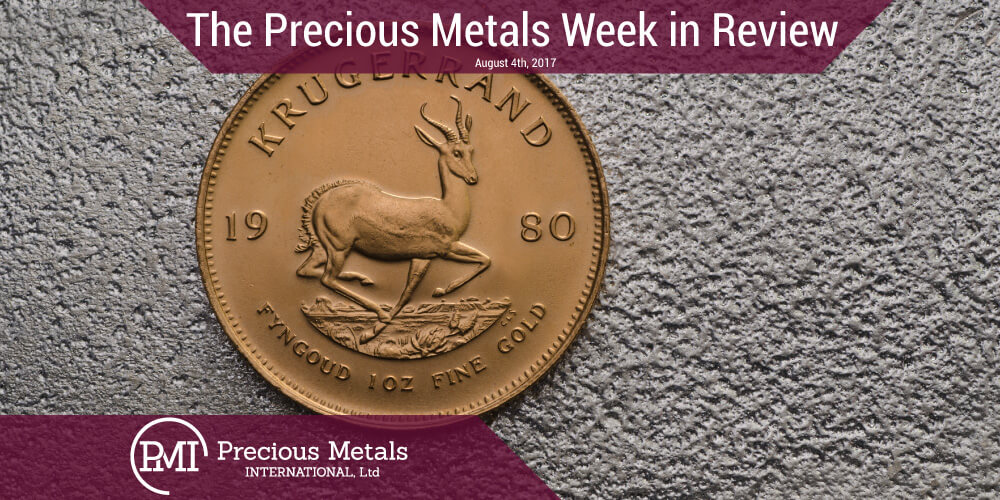 2. Anthony Scaramucci's tenure as White House Communications Director was remarkably short-lived as he left the post, likely unwillingly, just 10 days after he took the job. His profanity laden interview with the New Yorker appeared to be the primary culprit for his abrupt departure. New White House Chief of Staff, General John Kelly moved in and began to enforce some discipline among the seemingly endless sea of chaos that the White House has become and Scaramucci appears to have been the first casualty. Kelly, the former Homeland Security Secretary, is also a general who served in the Marines and ran the United States Southern Command. Optimism is running high that General Kelly might be able to bring some order to the embattled Trump administration's White House routines.
3. The seasonally adjusted number of Americans filing initial claims for state unemployment dropped by 5,000 claims for the week ending July 29 to a new level of 240,000 from the previous week's revised level. The previous week's data was revised higher by 1,000 claims. The four-week moving average of claims was at 241,750, a drop of 2,500 from the previous week's revised moving average.
4. The US Non-Farm Payrolls report for July was released on Friday and blew through economists' expectations. The US economy added 209,000 jobs in July, vs. expectations for a lighter print of 183,000. Unemployment also dipped to its lowest official rate in 16 years. It was the second straight month for a reading above 200,000 jobs but stock markets seemed to have already "priced in" the better-than-expected report and did not move much on the data.
5. Alan Greenspan, the former head of the US Federal Reserve who famously coined the term "irrational exuberance" said on Friday that the bond market appeared to be in a bubble. Mr. Greenspan said it was fair to characterize his statement as an "irrational exuberance" type forecast, but he stopped short of putting a time-frame on when he thought the bond bubble might burst. Mr. Greenspan said "It looks stronger just before it isn't stronger" and stressed that anyone who thinks they can forecast when a bubble will break is "in for a disastrous experience".
6. In the wake of North Korea's test launch of yet another apparent Intercontinental Ballistic Missile last week, the U.S. announced a ban on travel to North Korea by any U.S. passport holder and advised Americans currently in North Korea that they should leave before September 1st, the day the travel ban goes into effect. The ban would make North Korea the only country where Americans are outright banned from traveling.
7. China's Foreign Ministry announced on Thursday that it believes India has been building up troops and making repairs to roads along its side of a disputed border that it shares with China. In a statement, China's Foreign Ministry said "It has already been more than a month since the incident and India is still not only illegally remaining on Chinese territory, it is also repairing roads in the rear, stocking up supplies, massing a large number of armed personnel. This is certainly not for peace".
8. In a near one-hour speech he made in Beijing to mark the 90th anniversary of the founding of the People's Liberation Army, Chinese president Xi Jinping said "The Chinese people treasure peace and we absolutely do not engage in invasion and expansion. However, we have the confidence to conquer all forms of invasion".  Xi continued, saying "We absolutely will not permit any person, any organization, any political party – at any time, in any form – to separate any piece of Chinese territory from China. No one should expect us to swallow the bitter fruit of damage to our sovereignty, security and development interests".  Xi did not name any names, but China's recent standoff over its border with India, and its long-running disputes over territories it claims in the South China Sea were clearly on his mind.
9. In Pakistan, after last week's ouster of Prime Minister Nawaz Sharif under a rarely-used Article of the Constitution and similar section of the Representation of the People Act, the Pakistani Supreme Court may have opened the door to dismissing other lawmakers using the same precedent. Moeed Yusuf, associate vice president at Asia Center, United States Institute of Peace, said in a research note "Having used these clauses to oust the prime minister, the court may have opened Pandora's box. Sharif's allies have already started bringing charges against their political opponents under the same article; other such cases are sure to follow".  If a rash of political dismissals begins to occur, a power vacuum could develop in Pakistan and the military would likely step right into it, in an effective bloodless coup.
10. In London, a recent rash of attacks involving the use of acids has sparked fears for public safety. The Saudi Arabian embassy is reported to have issued a travel warning and advice to its tourists bound for the UK capital on Friday as the number of incidents have been on the rise.
11. Donald Tusk, President of the European Council told reporters in Warsaw on Thursday that "There is a question mark over Poland's European future today".  Poland has been at odds with the Council in recent weeks over laws that it is trying to pass in order to reform its judiciary. The Council claims that the adjustments would undermine the independence of Poland's judges and break EU treaty rules. The Polish government has also apparently ignored a European Court of Justice order to halt tree logging in the Bialowieza forest, which is a UNESCO World Heritage site. Mr. Tusk said "The fact that a European tribunal decision is rejected so arrogantly is evidence of something very dangerous in my opinion – it is an overt attempt to put Poland in conflict with the European Union".  The remarks are significant in their own right, but the fact that Donald Tusk is Poland's former Prime Minister lends even more weight to them.
12. Crude oil prices held on to gains this week as US supply finally showed signs of reversing somewhat. The Baker Hughes rig count report out of the U.S. finally showed a reduction as 3 natural gas production rigs and 1 oil rig went offline. The drop in the count of US rigs was light, so market reaction and price support could be temporary, due more to the better-than-expected jobs report than any perceived reduction in supply.
13. The euro trended mostly higher against the U.S. dollar for much of the week before falling off a near vertical cliff on Friday after the Non-Farm Payrolls report was released. The euro plunged sharply on the release of the data, but the drop was quickly halted at levels near where the frequently battered currency opened, and a last-minute struggle to regain ground means the euro is likely to close the week out in positive territory against the U.S. dollar. The Japanese yen had a whipsaw week against the U.S. dollar, clawing its way higher through Tuesday and then plunging briefly back to negative territory by late Wednesday. The yen spent Thursday moving near vertically higher before giving back all of its gains for the week immediately following the release of the Non-Farm Payrolls report. The yen also witnessed a last-minute claw-back against the dollar which will likely see it too close the week in slightly positive territory.
Stocks continued their run up higher into bubble territory despite continued pressure from weak retail earnings reports. Apple stood out with its earnings report coming in better than expected, and the beat, announced early in the week, was a large factor in the Dow Jones Industrial Average making record highs each day this week.
Stocks also may have moved higher largely on anticipation of the release of Non-Farm Payrolls data in the US, given the fact that once the data came in and was better-than-expected, stocks made no significantly large moves to the upside. Alan Greenspan's comments that bonds were in a bubble and "irrational exuberance" was present in the system once again went largely unnoticed in the wake of the jobs report. The jobs report also triggered apparent "knee jerk" reactions in both the yen and the euro, but the fact that those two currencies staged a recovery just prior to market closing could mean that any bounce in the dollar from the better-than-expected report might be a temporary halt in the dollar's ongoing decline.
One glaring aspect of the Non-Farm Payrolls report was the wage component, which remains significantly weak and indicates inflation remains stubbornly low. If the Fed cannot get closer to its 2 percent inflation target then it will likely be forced to hold off on raising interest rates again. Given the Fed's recent penchant for following through with rate hikes in December, despite pressure to maintain the status quo, we might expect the media to begin discussing whether the Fed will "act too early" if it raises again in December.
North Korea took a different tactic this week, following the US government's announcement that it would ban travel to North Korea for any U.S. passport holders. The reclusive state declared that travel inside its borders was extremely safe and that the ban is proof that the U.S. has no interest in humanitarian missions, with the unstated implication that it also proves the US is interested in nothing but warfare against the beleaguered North. China weighed in on the issue this week as well, declaring that it does not have the sway over North Korea that the Trump administration clearly believes that it does.
In Europe, as the UK continues to negotiate its exit out of the European Union, there appear to be signs of further cracks developing in the fabric that holds the bloc together. Poland's own former Prime Minister, now head of the European Council, criticized its current government's recent actions as being heavily against the principles of the EU and said that they might put that country's continued membership in the bloc into question. As earnings season continues and mainstream media outlets pick and promote the stars (such as Apple) and downplay the weaker reports (Amazon, and most "Brick and Mortar" retailers), investors seem to be embracing Alan Greenspan's "irrational exuberance" wholeheartedly once again.
Wise investors continue to seek out methods to ensure that their portfolios remain diversified, even as stocks continue to hit record highs. Given the continued undercurrents of less-than-stellar economic fundamentals in the US, and as the dollar resumes its decline against global currencies, portfolio diversification continues to be vitally important. Savvy investors continue to use buying opportunities, in the form of temporary price dips, to add physical precious metals to their well-balanced portfolios well ahead of a rapidly bursting bubble that could force them to act when prices are already substantially higher in the panic.
Remember that precious metals should always be viewed as a long-term investment and that the key to profitability through the ownership of physical precious metals is to actually acquire and own the physical products and to hold them for the long term. Always remember that you should never overextend your ability to maintain ownership of your precious metals over the long term.
Trading Department
Precious Metals International, Ltd.
Friday to Friday Close (New York Closing Prices)
| | | | |
| --- | --- | --- | --- |
| | July 28th2017 | Aug 4th2017 | Net Change |
| Gold | $1270.10 | $1258.71 | (11.39) – 0.90% |
| Silver | $16.73 | $16.30 | (0.43) – 2.57% |
| Platinum | $936.00 | $970.00 | 34.00 + 3.63% |
| Palladium | $886.00 | $882.50 | (3.50) – 0.40% |
| Dow Jones | 21830.31 | 22092.81 | 262.50 + 1.20% |
Month End to Month End Close
| | | | |
| --- | --- | --- | --- |
| | June 30th2017 | July 31st2017 | Net Change |
| Gold | $1242.40 | $1267.55 | 25.15 + 2.02% |
| Silver | $16.61 | $16.81 | 0.20 + 1.20% |
| Platinum | $924.40 | $938.45 | 14.05 + 1.52% |
| Palladium | $841.65 | $888.40 | 46.75 + 5.55% |
| Dow Jones | 21349.63 | 21891.12 | 541.49 + 2.54% |
Previous year Comparisons
| | | | |
| --- | --- | --- | --- |
| | August 5th2016 | Aug 4th2017 | Net Change |
| Gold | $1339.10 | $1258.71 | (80.39) – 6.00% |
| Silver | $19.82 | $16.30 | (3.52) – 17.76% |
| Platinum | $1148.00 | $ 970.00 | (178.00) – 15.51% |
| Palladium | $697.00 | $882.50 | 185.50 + 26.61% |
| Dow Jones | 18543.53 | 22092.81 | 3549.28 + 19.14% |
Here are your Short Term Support and Resistance Levels for the upcoming week.
| | | |
| --- | --- | --- |
| | Gold | Silver |
| Support | 1250/1235/1210 | 16.15/15.90/15.60 |
| Resistance | 1265/1280/1300 | 16.40/16.80/17.00 |
| | Platinum | Palladium |
| Support | 950/925/900 | 860/845/825 |
| Resistance | 975/1000/1035 | 880/900/935 |
This is not a solicitation to purchase or sell.
© 2017, Precious Metals International, Ltd.