1. Volatility continued this week as coronavirus cases in the U.S. and the world continue to increase. The last presidential debate of the race had considerably less impact on the stock market than the first. However, the dollar decreased slightly as investors awaited news about the new round of stimulus funding. Friday's was session was also rough for the S&P500, which posted a weekly loss for the first time in four weeks.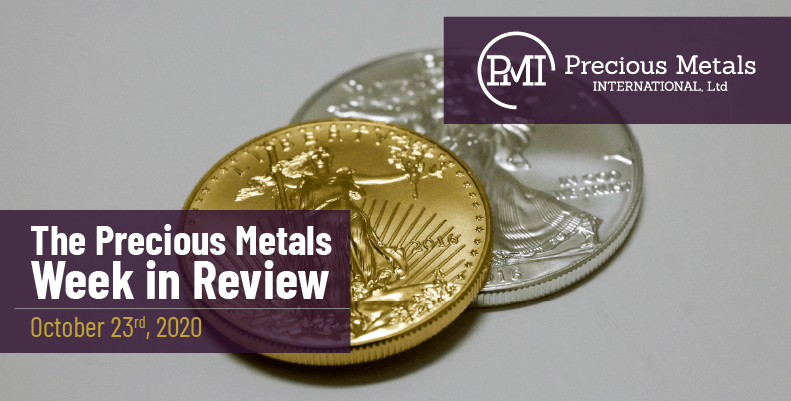 2. For the week ending on October 17, the seasonally adjusted number of Americans filing for unemployment diminished vis-à-vis the previous week's revised level. The number of initial claims totaled 787,000, a decrease of 55,000 from 842,000. The revision of the adjusted initial claims for the week ending on October 10 dropped in 56,000, for a total of 842,000. The four-week moving average for the week of October 17 was 811,250, a decrease of 21,500 claims from the preceding week's revised average. The revision of this average for the week ending October 10 shrank in 33,500 more jobless claims than estimated for a new total of 832,750 claims. California completed the two-week pause and has resumed the processing of initial claims. These numbers reflect this week's initial claims and revisions for the previous. Additionally, California issued individual reports accounting for the data of the past two weeks.
3. Thursday night, the final U.S. presidential debate leading up to Election Day, on November 3, took place. In opposition to the previous exchange, last night's was considerably more moderate. NBC New's Kristen Welker took the moderator's role and asked questions that touched on different subjects: the coronavirus pandemic, the economy, foreign interference, the Affordable Care Act, race, immigration, and the environment. On the pandemic subject, former Vice-president Joe Biden warned that the country is heading to a "dark winter," echoing the words of epidemiologists. On his part, Trump asserted that "We're [not] going to have a dark winter at all. We're opening up our country, we've learned and studied and understand the disease, which we didn't at the beginning." The discussion on foreign interference became personal as both candidates attacked each other about money received from foreign countries and bank accounts abroad. In relation to health care, Trump said he wanted to terminate Obamacare and create a "new beautiful health care" plan; Biden rebuked that Trump had failed to develop a clear health care plan despite promising one to replace Obamacare since 2016.
4. Chinese President Xi Jinping reacted to former Vice-president Joe Biden's and President Trump's statements about adopting a hard stance against China. On Friday, Xi warned that Beijing will not recoil from conflict in a speech on the occasion of the 70th anniversary of the North Korean War. Referring to the U.S., Xi said that "any country and any army, no matter how powerful they used to be" would be defeated if they contradict the international community's interests. In his speech, Xi not only hinted at China's policing role in the international arena but also stated that unilateralist, protectionist and extremely self-interested international politics are "totally unworkable." Furthermore, Xi added that "any blackmailing, blockades, and extreme pressure[,] […] any efforts to engage in hegemony and bullying will simply not work—not only will it not work, but it will be a dead end."
5. Disagreements between Canada and China continued brewing this week. The Canadian Parliament concluded that China's actions in the Xinjiang province, home of the Uyghur ethnic group and other Turkic Muslim populations, "are a clear attempt to eradicate Uyghur culture and religion." The report details the destruction of mosques, sterilization of women, and forced political indoctrination in "concentration camps." Chinese Foreign Affairs Ministry spokesman, Zhao Lijian, referred to the account of the Canadian Parliament's subcommittee on international human rights as filled "with lies and disinformation," and "without factual basis." He also argued that a 25% increase in Uyghur population between 2010-2018—according to State statistics—could not be called genocide and warned parliament members to "avoid doing any further damage to China-Canada relations."
6. Top U.S. security officials announced that both Iran and Russia gained access to American voter registration data on Wednesday. Iran used the information to send Democratic voters threats pretending to be the far-right group The Proud Boys. The emails menaced voters to vote for President Trump, "or we will come after you." The intimidations went further to state "We will know which candidate you voted for. I would take this seriously if I were you" and originated from the email address "info@officialproudboys.com." Intelligence agencies found evidence that Iran had more plans to influence voting outcomes. It seems that the information that Russian and Iran accessed was, for the most part, public—like names, party registration, and, in some cases, contact information—and it could have been merged with other databases. According to the director of national intelligence, John Ratcliffe, "This data can be used by foreign actors to attempt to communicate false information to registered voters that they hope will cause confusion, sow chaos and undermine your confidence in American democracy." This is not the first time officials affirm that Russia poses a more significant threat than Iran and China; however, it seems that Iran is building on Russian techniques. On a different note, U.S. intelligence is not the only to perceive Russia as a threat. Recently, during the introduction of a new defense bill, Sweden's Defense Minister said a Russian "armed attack against Sweden cannot be ruled out." The new bill would increase the Defense Ministry's budget by $3.1 billion and seeks to update and expand the Swedish military forces. If passed, this would be the most ambitious plan of the last 70 years.
7. With less than twelve days until Election Day, discussions about a new stimulus package continue between House Speaker Nancy Pelosi and Treasury Secretary Steven Mnuchin. On Wednesday, Pelosi said she was "pleased" with the negotiations' progress and that a deal was "close." Pelosi stated that reaching an agreement took time because conversations were not about slimming down, but about "establishing a plan to push a virus, to honor our heroes, to put money in the pockets of the American people and do so in a way that does not harm our American children." However, besides waiting for a new round of stimulus, small businesses also await directions about the forgiveness of PPP (Paycheck Protection Program) loans, which were part of the first assistance package. The Small Business Administration (SBA) opened a forgiveness portal for PPP loans back in August. It determined that debts would be pardoned if 60% of the proceeds were used to cover payroll; if businesses failed to meet the threshold, they could still get partial forgiveness. Nevertheless, businesses have only one opportunity to get it right as "The government only gives one chance to apply for forgiveness," explained Rohit Arora, CEO of Biz2Credit. Nevertheless, small-business owners have to deal with the stress of applying for debt dismissal and worry about taxation. The SBA has not yet established whether PPP loans will be taxed as regular business income or if they will be deductible as an expense.
8. Scotiabank Senior Economist Marc Desormeaux spoke with Larysa Harapyn of the Financial Post about the bank's recent provincial outlook report. The report highlighted immigration as a critical component of economic recovery. Desormeaux explained that before the pandemic, immigration supported population growth across provinces, which "was driving healthy market gains and contributing a lot to the economy." However, immigration decreased when the pandemic hit, and in spite of a recovery by the end of the summer, "immigration was still down by 60% for most provinces, on a year to year basis." He concluded that a regain of immigration flows "in conjunction with efforts to keep the virus' spread under wraps" will be "very important for Canada's economy […] in the next few years." Desormeaux also discussed the importance of preventative measures for the wellbeing of the economy. Although the pandemic and low oil prices doubly hit oil-producing provinces, the low-case load in provinces like Saskatchewan and Newfoundland and Labrador allowed for an earlier reopening, a faster return to growth, and "helped to mitigate some of the impacts of weaker oil prices."
9. During Thursday's debate, former Vice-president Joe Biden's expressed his commitment to transitioning from fossil fuels to renewable-sourced energy. The comments may cost him votes in Pennsylvania and Texas, and even though the energy industry was not happy about it, it did not cause surprise in the sector. European BP already announced its plan to reduce its oil and gas production by 40% over the next decade and become a zero-emissions company by 2050. The question for U.S. companies is the timeline for the transition and whether they will be allowed to continue extracting oil and gas if they cancel out their emissions by capturing and storing them. Concerns about the process led Biden to explain his remarks and say that, if elected, fossil fuels will not be eliminated before 2050. This week, both Brent oil crude and West Texas Intermediate had losses. While Brent oil remained above the $40 threshold all week, it closed below this week's opening level at $41.77 after reaching the high of the week at $43.30 on Tuesday. WTI managed to stay most of the week above the $40 threshold, reached the high on Tuesday at $41.84, but closed at $39.85.
10. The euro had an upward-moving week against the U.S. dollar. The European currency moved up and then down, right after trade opened on Sunday evening. It reached negative territory on Monday morning but quickly started an ascending trend that lasted until Wednesday afternoon when it touched the week's high. Afterward, the currency followed a u-shaped trajectory; it went down until the wee hours of Friday, recovered, and closed the week to the upside against the greenback. The Japanese yen had a somewhat similar week against the U.S. dollar. The Japanese currency slightly climbed after the trading week's start but fell to negative territory on Tuesday and reached the week's low right after midday. Later, the currency rocketed and reached the high of the week by Wednesday afternoon. For the remainder of the week, the yen followed a W-shaped trajectory and closed it slightly to the downside against the greenback.
A study forecast by the University of Washington estimates that the coronavirus could cause close to 300,000 more deaths in the next four months if states ease preventative measures. On Friday, six states topped daily records, and the country is nearing a new record high. In the meantime, AstraZeneca resumed trial experiments for its COVID-19 vaccine, and Johnson & Johnson also reported that it had received the green light to resume testing soon. On Thursday, The Food and Drug Administration also approved the use of Remdesivir, produced by Gilead Sciences, for treating hospitalized patients with COVID-19, despite the study the World Health Organization released last week saying the medication did not shorten the length of hospitalization. Wednesday, Spain became the first European country to surpass one million positive cases since the start of the pandemic. The Health Ministry counted 1,005,295 cases and 34,366 deaths. On Wednesday also, Italy's Lazio region, which includes Rome, reimposed curfews, and Jordan reached its highest daily number of cases.
After unilaterally ending Brexit negotiations last Friday, British Prime Minister Boris Johnson agreed to resume them on Thursday this week. However, the resumption came with two unpleasant surprises for U.K. citizens. They might have to pay 10% in tariffs for importing cars if the parties cannot reach a deal, which translates to an extra $2,500 for an average car and $3,700 for an electronic vehicle. Additionally, Johnson's request to allow U.K. nationals to use the fast lines reserved for European Union citizens received a resounding "no" from the European Union. According to studies, the change would cost Britons an extra hour when entering European countries. Despite Johnson's requests, the commission remained unswerving and maintained that granting U.K. citizens that right would violate European Union laws. Unfortunately, this is not the only loss Britons might have to bear.
Secretary of State Mike Pompeo is one of the supporters of a proposal seeking to label prominent human rights organizations as "anti-Semitic." The proposal, which is being assessed by the Trump administration, would discourage governments from supporting their efforts, and foreign governments could use it as an excuse to interfere with their work and even veto it. The declaration could target organizations of the stature of Oxfam, Amnesty International, and Human Rights Watch, as well as other groups that have criticized the Israeli government for its treatment of Palestine.
As politics around the world and ongoing worldwide health concerns continue to feed uncertainty, investors continue to regard precious metals, particularly gold and silver, as a means for protecting their capital and diversifying their portfolios. Nevertheless, precious metals should always be viewed as a long-term investment; the key to profitability through the ownership of physical precious metals is to acquire the physical product and hold on to it for the long term. Always remember that you should never overextend your ability to maintain ownership of your precious metals over the long run.
Trading Department
Precious Metals International, Ltd.
Friday to Friday Close (New York Closing Prices)
Oct. 16, 2020
Oct. 23, 2020
Net Change
Gold
1,903.15
1,903.40
0.25
0.01%
Silver
24.30
24.60
0.30
1.23%
Platinum
869.05
905.70
36.65
4.22%
Palladium
2,333.55
2,391.10
57.55
2.47%
Dow
28606.31
28335.57
-270.74
-0.95%
Previous year Comparisons
Oct. 25, 2019
Oct. 23, 2020
Net Change
Gold
1,502.60
1,903.40
400.80
26.67%
Silver
17.92
24.60
6.68
37.28%
Platinum
929.10
905.70
-23.40
-2.52%
Palladium
1,770.45
2,391.10
620.65
35.06%
Dow
26958.06
28335.57
1377.51
5.11%
Here are your Short Term Support and Resistance Levels for the upcoming week.
| | | |
| --- | --- | --- |
| | Gold | Silver |
| Support | 1860/1800/1780 | 24.00/23.50/22.00 |
| Resistance | 1920/1980/2000 | 25.00/25.50/26.00 |
| | Platinum | Palladium |
| Support | 900/880/860 | 2300/2250/2100 |
| Resistance | 960/1000/1040 | 2450/2550/2700 |
This is not a solicitation to purchase or sell.
© 2020, Precious Metals International, Ltd.