1. Despite yet another warning of the state of the U.S. economy from Federal Reserve Chair Jerome Powell, the stock market continued to rally this week. The Dow Jones rose 27.7 points and reached a new all-time high, while S&P and Nasdaq gained 0.5%. Hopes of a new COVID-19 stimulus package have continued to support this rally, as well as news from President Joe Biden regarding the acquisition of 200 million more doses of Pfizer's and Moderna's COVID-19 jabs. While the United States has now secured a total of 600 million doses for its population with this last deal, China, India, and the United Arab Emirates continue to exert their vaccine diplomacy in key geopolitical areas. In the meantime, Europe continues to struggle with its vaccine rollout, and European Union leaders have publicly taken responsibility for the slow start.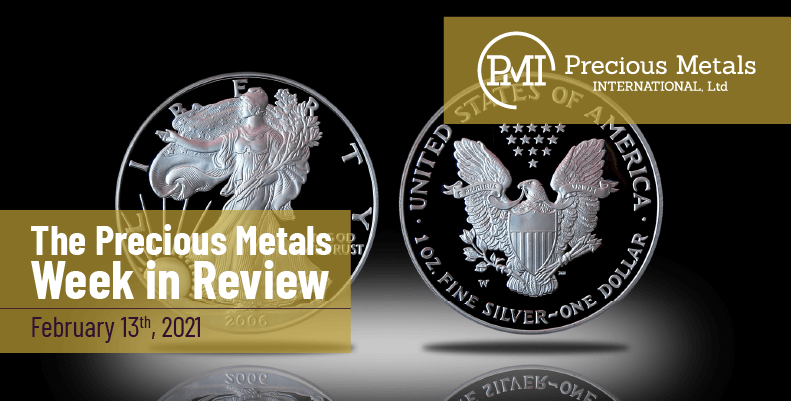 2. For the week ending on February 6, the seasonally adjusted number of Americans filing for unemployment decreased vis-à-vis the previous week's revised level. The number of estimated initial claims totaled 793,000, a drop of 19,000 from 812,000. The revised figure for the week ending on January 30 increased by 33,000 claims, from 779,000 to 812,000. The four-week moving average for the week ending February 6 was 823,000, a decrease of 33,500 claims from the preceding week's revised average. Meanwhile, this figure's revision for the week ending January 30 added 8,250 jobless claims for a new total of 856,500 claims. Some analysts have expressed worry about this week's slight decrease as daily COVID-19 cases have significantly diminished in the U.S. since early January, but hirings do not follow the same pace.
3. On Wednesday, Federal Reserve Chair Jerome Powell gave a speech to the Economic Club of New York, painting a dire picture of the U.S. economy. Although the unemployment rate has decreased from 14.8%—its highest in 2020—to 6.3% in the latest nonfarm payroll report, Powell said the unemployment rate is closer to 10%. The Fed's Chair underscored that non-white low-wage workers in the service sector are bearing the brunt of pandemic job losses. While the bottom quartile of the U.S. population experienced an employment loss of 17% because of the coronavirus-triggered crisis, the top quartile has only seen a 4% decline. Powell emphasized that continuous supportive monetary policy is only part of the solution and that economic recovery "will require a society-wide commitment, with contributions from across government and the private sector." In the meantime, President Biden's $1.9 trillion economic rescue package continues to gain traction in certain sectors. Despite some economists' concerns of possible high levels of inflation—former Treasury Secretary Larry Summers among them—Powell maintains that such a scenario is unlikely and that the Fed has the financial tools to quash inflation.
4. Last year, immigration to Canada reached a record low of 184,370, the lowest since 1998. The 46% drop in new immigrants has led to weaker demand for apartments and condo rental in major Canadian cities; in Toronto alone, the apartment vacancy rate increased fivefold, and rents dropped. However, not only the residential rental market has taken a hit; the entire economy has suffered as immigration has continually supported population growth and has made large contributions to the economy by bringing healthy market gains. A spokesperson for the Canadian Immigration Minister, Marco Mendicino, announced in a recent e-mail that new paths to permanent residency for international students, migrant workers, and asylum seekers will open in order to reach this year's immigration targets. To offset the loss, Canada has also raised the bar for its immigration goals: for 2021, the government expects to attract 401,000 new residents, an increase of 60,000 from last year. For 2022, the target increased by 50,000 from 361,000 to 411,000; and for 2023, Canada expects to draw 421,000 new permanent residents. Canada continues to bet on professionals in the tech sector as a means to offset the loss of talent to Silicon Valley.
5. Vaccines are probably one of the highs this week. Canada's inoculation efforts had a slow start this year, with Pfizer shipping thus far a bit over a third part of what the pharmaceutical had agreed. Pfizer's delay resulted from a production plant expansion in Belgium, which has slowed down the shipping roster for all of its vaccine purchasers. Nevertheless, Canadian Prime Minister Justin Trudeau announced in an online meeting with doctors and nurses that Canada will receive over 400,000 doses for the next four weeks. These shipments should end the holdup as Pfizer is scheduled to ship 900,000 extra doses in the last two weeks of March to fulfill its agreement with the Canadian government. Canada is also allocating funds to acquire the right kind of syringes to get six doses out of Pfizer's vials. Thus far, the federal government has ordered 72 million low-dead volume syringes, of which 2 million have been delivered.
6. On Thursday, President Joe Biden announced his government had secured 200 million additional doses, thus completing 600 million doses to immunize 300 million Americans against COVID-19. Biden disclosed the good news during a visit to the National Institutes of Health complex, where he met with top scientists doing advanced research on the coronavirus. The President struck an agreement with Moderna and Pfizer to deliver the 200 million more doses by the end of July. The vaccination campaign could pick up the pace if Johnson & Johnson receives clearance for emergency use of its jab from the Food and Drug Administration. Under Biden's lead, the government has also deployed active-duty troops to help set-up mass vaccination sites in different states as part of the vaccination efforts. Biden's goal of administering 100 million doses in the first 100 days of his government seems plausible to date as more than 26 million doses were delivered in the first three weeks.
7. Tensions between China and the United States remain high, despite some improvement from the lows set by the Trump administration. On Wednesday night, President Biden held the first phone conversation with the Chinese leader Xi Jinping and media in both countries accounted for the exchange with different narratives. The Chinese State broadcaster CCTV said that Xi urged cooperation despite acknowledging differences and the importance of managing them. Additionally, CCTV reported that Xi responded to Biden's concerns over Hong Kong, Taiwan, and Xinjiang by saying that the U.S. should proceed with caution with Chinese internal affairs. Although Biden said to be willing to cooperate with China on shared global challenges and issues that benefit the American people, he seems to maintain the previous administration's tough stance regarding trade practices, human rights, and Chinese expansionist interests over the South China sea. The call came after a series of U.S. naval drills in the South China Sea, where China has also conducted naval exercises threatening its neighbors' sovereignty. On Thursday, Biden alluded to the 2-hour long conversation with Xi during a discussion with a group of bipartisan U.S. Senators. The President said that China remained the most serious competitor and that the U.S. needed to step up on infrastructure and environment to avoid being outcompeted.
8. Brent and West Texas Intermediate crude oil continued to rally this week; Brent remained above the $60 mark, and W.T.I. is bordering it. Although both benchmarks fell on Thursday, they resumed the ascent on Friday and closed the week to the upside. On Thursday, news stemming from OPEC and the International Energy Agency (IEA) accounted for the price decline. On the one hand, OPEC cut its demand forecast and said that worldwide demand will take longer than initially thought to recover. On the other, IEA said that the market remains over-supplied and revised down the global demand estimate for this year by 200,000 barrels per day to 96.4 million barrels per day. Despite the price jolt, both benchmarks managed to set new records this week; on Wednesday, both crudes closed at their highest since January 2020, and both oils beat that mark on Friday. Brent crude closed the week at $62.71 and W.T.I. oil at $59.73
9. The euro and the Japanese yen had similar weeks against the U.S. dollar. The euro fell into negative territory after opening on Sunday evening and touched the week's low around Monday noon. The European currency rebounded with a long and steady ascent that lasted most of the week. However, the climb was not without difficulties as the euro dipped before touching the week's high in the early afternoon of Thursday. Subsequently, the currency accomplished to border the week's high for a few hours but dropped in the end. The euro regained terrain and closed the week to the upside against the greenback. Similarly, the Japanese yen dived to negative territory after opening on Sunday evening and touched the week's low on Monday's late morning. However, the Japanese currency managed to reverse course and entered positive territory, engaging in a steady climb that took it to the week's high on Wednesday morning. After peaking, the currency experienced a slight dip and climbed up again; however, it slowly declined until the early afternoon of Friday. The yen managed to recover some ground and closed the week to the upside against the greenback.
Four renowned experts have said in recent weeks that the coronavirus might not disappear. Doctor David Haymann, infectious disease epidemiology expert in the U.K., reiterated this week the opinions of White House coronavirus advisor Dr. Anthony Fauci, head of the World Health Organization's Emergencies Program Dr. Mike Ryan, and Moderna's C.E.O. Stéphane Bancel. On Wednesday, Dr. Haymann said during a webinar for the think tank Chatham House that "If you speak with most epidemiologists and most public health workers, they would say today that they believe this disease will become endemic, at least in the short term and most likely in the long term." The fact that the coronavirus affects people worldwide means that the virus will continue to mutate, and controlling it will require more than vaccinating people in first-world countries. As reported by the Intelligence Unit of The Economist magazine, the general populations of more than 85 poor countries will not have access to the COVID-19 vaccine before 2023, and that will make containing the coronavirus almost impossible.
Some countries have taken note of this fact and are sending vaccine doses to countries they seek to control or gain leverage, in some cases, to the detriment of their populations. As reported by the New York Times, China, India, and the United Arab Emirates lead this new form of diplomacy and shipping vaccines to countries where they currently have geopolitical disputes. India's Serum Institute, renowned for being the world's largest vaccine production plant, mass-produces AstraZeneca's vaccines at a pace of 2.5 million doses per day and is sending vials to Nepal and Sri Lanka as a means to counter Chinese presence in those neighboring countries. India has also made offers to Myanmar, Afghanistan, Bangladesh, the Maldives, and Seychelles despite having a population of 1.3 billion with one of the highest infection rates worldwide. Producing AstraZeneca's vaccine at a faster pace than that of the vaccination campaign affords New Delhi the capacity to exert this soft power in the region. However, a rush of skepticism around a made-in-India jab that received clearance for emergency use without vouchsafing much trial data is part of the picture, as Indians do not have a say over which immunization they get.
India and China not only compete over Nepal and Sri Lanka but the World Health Organization's coronavirus vaccine pool, COVAX. China recently committed to donating 10 million to the COVAX initiative, while India agreed to contribute 200 million. On top of its recent pledge to W.H.O., China has undertaken to supply 1 million doses to Cambodia, 300,000 to Myanmar and Egypt each, and 200,000 to Zimbabwe. The United Arab Emirates also donated to Egypt 50,000 vaccines produced by the Chinese state-owned pharmaceutical, Sinopharm. Nevertheless, some doctors have refused to use them, arguing distrust of the U.A.E. and the trial data the Chinese government disclosed. Malaysia has also declined to be the object of the U.A.E.'s coronavirus diplomacy by turning down an offer of 500,000 doses and buying instead directly from Pfizer, AstraZeneca Sinovac—a Chinese publicly traded pharmaceutical.
Risk appetites remain high even though the experts continue to warn that the economy is still in trouble and struggling at great lengths to generate employment. Holding a balanced portfolio that includes safe-haven investments is a major trait of experienced investors. Savvy investors know well that gold and silver are instrumental in shielding capital and keeping their portfolios well diversified. Nevertheless, precious metals should always be viewed as a long-term investment; the key to profitability through the ownership of physical precious metals is to acquire the physical product and hold on to it for the long term. Always remember that you should never overextend your ability to maintain ownership of your precious metals over the long run.
Trading Department
Precious Metals International, Ltd.
Friday to Friday Close (New York Closing Prices)
Feb. 5, 2021
Feb. 12, 2021
Net Change
Gold
 $1,812.12
 $1,819.65
7.53
0.42%
Silver
 $27.01
 $27.24
0.23
0.85%
Platinum
1,126.20
1,248.15
121.95
10.83%
Palladium
2,338.63
2,389.42
50.79
2.17%
Dow
31148.24
31458.40
310.16
1.00%
Previous year Comparisons
Feb. 14, 2020
Feb. 12, 2021
Net Change
Gold
1,583.55
1,819.65
236.10
14.91%
Silver
17.76
27.24
9.48
53.38%
Platinum
996.80
1,248.15
251.35
25.22%
Palladium
2,401.70
2,389.42
-12.28
-0.51%
Dow
29398.08
31458.40
2060.32
7.01%
Here are your Short Term Support and Resistance Levels for the upcoming week.
| | | |
| --- | --- | --- |
| | Gold | Silver |
| Support | 1800/1750/1700 | 27.00/26.00/25.00 |
| Resistance | 1860/1920/1950 | 28.00/29.00/30.00 |
| | Platinum | Palladium |
| Support | 1150/1100/1050 | 2300/2200/2100 |
| Resistance | 1200/1250/1300 | 2450/2500/2650 |
This is not a solicitation to purchase or sell.
© 2021, Precious Metals International, Ltd.