1. Optimism around the coronavirus vaccine continues to fuel a stock market that remains disconnected from the harsh economic reality. This sense of hopefulness seemed to outweigh the relief bill's delay after President Trump backtracked on his support for the measure. The week closed on a high with the end of Brexit negotiations on Thursday. The good news served to mitigate the pessimism that came with reports of a new strain of the coronavirus in the U.K.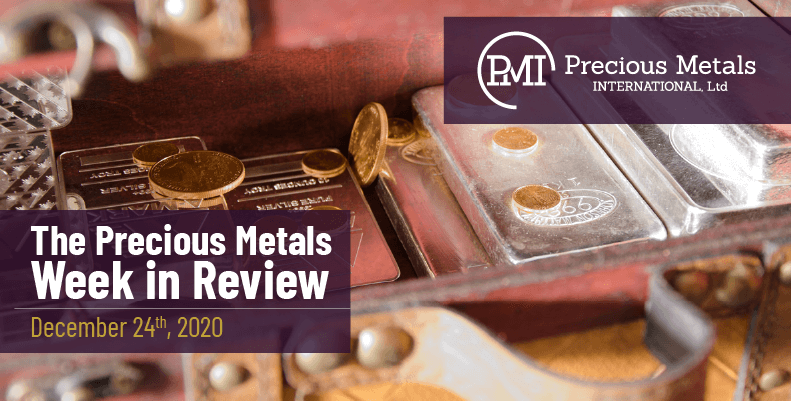 2. For the week ending on December 19, the seasonally adjusted number of Americans filing for unemployment decreased vis-à-vis the previous week's revised level. The number of initial claims totaled 803,000, a drop of 89,000 from 892,000. The revised figure for the week ending on December 12 added 7,000 claims for a total of 892,000. The four-week moving average for the week ending December 19 was 818,250, an increase of 4,000 claims from the preceding week's revised average. The revision of this figure for the week ending December 12 added 1,750 more jobless claims than estimated for a new total of 814,250 claims.
3. A federal government error has delayed the distribution of COVID-19 vaccines for at least 14 states. The mistake came up as Operation Warp Speed officers assumed that Pfizer's vaccine was ready to ship. However, per the requirement of the Food and Drug Administration, all vaccine lots must go through a certificate of analysis where vaccines are tested for quality control. Chief Operating Officer of Operation Warp Speed, General Gustave Perna, apologized for the "planning error" and assumed responsibility for "not understanding with exactness […] all the steps that have to occur to make sure the vaccine is releasable." As a result, some states have seen their allocations cut by 40%; these are the affected states: California, Connecticut, Nevada, Washington state, New Jersey, Massachusetts, Idaho, Michigan, Virginia, Oregon, Wisconsin, Vermont, Iowa, and Minnesota. According to Operation Warp chief advisor, Doctor Moncef Slaoui, the impasse has been addressed, and delivery is optimized every day.
4. Health Canada has issued approval for Moderna's COVID-19 vaccine, making Canada the second country to have two approved vaccines. The federal government has secured 40 million doses of Moderna's vaccine and 20 million of Pfizer's; both inoculations use the same principle: it exposes the body to a fragment of the virus's genetic code in order to prepare the immune system for when the virus comes. Moderna has agreed to deliver 168,000 doses this month, which will go to remote indigenous communities and long-term care facilities. While both vaccines require two shots, 28 days apart, Moderna's storage requirements give it an edge over Pfizer's, which must be kept at -70 Celsius. A third vaccine could soon be available; AstraZeneca's jab, developed in partnership with Oxford University, is currently at the late-stage trial. Thus far, data suggest that the vaccine can have a 90% effectiveness at the right dosage level.
5. Millions of Americans prepare to travel ahead of the end-of-year festivities despite increasing levels of COVID-19 infections. As stated by the Transportation Security Administration, more than 5 million people have passed through airport checkpoints between Friday of last week and Tuesday. Although this figure represents about 40% of last year's travelers around this time, it still amounts to a million passengers per day—not counting people traveling by other means. The AAA estimated the number of people traveling by car between Wednesday and January 3 at 85 million. Although travelers interviewed by AP expressed concerns and doubts about whether traveling had been the right decision, people chose to take the risk because of sick family members that needed help, long-distance relationships that needed rekindling, and the need for connection with relatives. Despite warnings from health officials to not let the guard down now that we are so close to vaccinating entire populations, passengers reported less than the ideal distance from other passengers in airplanes, crowded airports, and people improperly masked.
6. On Thursday, the United Kingdom and the European Union reached a trade agreement one week before the December 31 deadline. Negotiators were able to avert a no deal-scenario, which most likely means lower costs for exporters and lower tariffs. The trade agreement contains 2,000 pages regulating a broad gamut of topics ranging from fishing and aviation to civil nuclear cooperation. Although parliaments still need to ratify the deal, a sense of relief could be felt in Brussels and London after four years of intense negotiations around difficult topics like fisheries and competition. The announcement came after the fifth call between European Commission President Ursula von der Leyen and U.K.'s Prime Minister Boris Johnson. A spokesperson for the Prime Minister expressed relief and victory for completing the deed: "The deal is done. […] We have taken back control of our money, borders, laws, trade, and our fishing waters. The deal is fantastic news for families and businesses in every part of the U.K. We have signed the first free trade agreement based on zero tariffs and zero quotas that has ever been achieved." Von der Leyen also commented on the subject in a press conference; the tone of her remarks reflected a sense of relief and the need to put Brexit behind: "It was a long and winding road, but we have got a good deal to show for it. […] It is a balanced deal. And it is the right and responsible thing to do for both sides. At the end of a successful negotiation, I normally feel joy. But today, I only feel quiet satisfaction and, frankly speaking, relief. […] So, to all Europeans, I think it is time to leave Brexit behind." While Brexit is something both parties can actually leave in the past, the coronavirus seems to resist. A new strain of the coronavirus has been reported in the U.K., and doubts about the effectiveness of the vaccines currently available have emerged.
7. Brent and West Texas Intermediate crude oils have had a sluggish week. Although both benchmark oils experienced losses earlier this week, the conclusion of Brexit negotiations and reports of a drop in U.S. oil inventories have supported oil prices; some hope the drop in oil stockpiles is a sign of demand recovery. Both oils posted gains on Thursday after a short day of trade; Brent crude closed the week above the $50 threshold at $51.30, and WTI settled at $48.30.
8. The euro and the Japanese yen had an erratic week against the U.S. dollar. The euro dropped right after trade opened on Sunday. Despite several recovery attempts on Sunday and Monday, the currency continued to dive into negative territory and touched the week's low on the late morning of Monday. Afterward, the European currency engaged in a fast ascent that took it close to opening levels; however, it remained in negative territory for the remainder of the week. On Tuesday, right afternoon, the euro peaked again close to opening levels but quickly plummeted until the evening. The currency managed to reverse course, and it seemed to start an ascending trend that lasted until Wednesday afternoon when a drop interrupted it. Despite efforts to climb back up, the euro will be closing the week to the downside against the greenback. The Japanese yen fared better than the euro in that it touched positive territory a couple of times; nevertheless, it spent most of the time in the negative ground. The currency recovered as quickly as it dropped right after trade opened and reached the week's high in the wee hours of Monday. Nevertheless, a steep drop followed that lasted until the late morning and led it to the week's low. Then, the yen was able to reverse course and bordered the week's high on Monday evening. On Tuesday, what seemed to be a small drop accelerated over the day until the evening when the Japanese currency changed direction and moved upwards again. Despite efforts to continue the climb, the yen peaked again by Wednesday morning and initiated a slow descent that led it to close the week to the downside against the greenback.
On Tuesday night, President Trump posted a video on Twitter criticizing the relief bill that lawmakers rushed to pass last weekend. In the video, Trump called the legislation "a disgrace" and urged Congress to increase the "ridiculously low" $600 checks to $2,000, "or else the next administration will have to deliver a COVID relief package, and maybe that administration will be me." Trump's words resonated like a bomb in Washington as no one expected him to backtrack on his support for the bill. Democrats were quick to react to Trump's criticism; House Speaker Nancy Pelosi tweeted, "At last, the President has agreed to $2,000—Democrats are ready to bring this to the Floor this week by unanimous consent. Let's do it!" However, on Thursday, the GOP voted no to the Democrat initiative in the House. At any rate, Congress can still override the President's signature by voting a two-thirds majority in the House and Senate.
Regardless of the path Congress chooses, Trump's refusal to sign upends lawmakers' efforts to send relief money to Americans as soon as next week. Analysts have read Trump's rejection of the stimulus bill as a reaction to GOP politicians who have recently acknowledged Biden's win and abandoned the current administration's efforts to overturn the election results. It is said that Trump has not given up on that front; reports have emerged about a meeting on Monday that Trump held with Republican lawmakers to discuss a new plan to challenge the election results on January 6, the day Congress convenes to count the Electoral College votes. It appears that this week's flurry of pardons—46 this week alone, plus 28 from before—is another expression of Trump's discontent—in this case, with a justice system that, he says, has mistreated him and his allies.
Mexico is the first Latin American country to have received Pfizer's COVID-19 vaccine. On Wednesday, the first batch of 1.4 million doses arrived on Mexican territory via DHL; news networks and public officials gathered on the runway to receive the valuable cargo. Health workers in Mexico City and the city of Saltillo will be the first to benefit from the vaccine; elderly people and people with chronic conditions will be second in line for inoculation. Pfizer has scheduled deliveries to other countries in the region, including Brazil, which has already received vaccines from producers other than Pfizer. Sinovac Biotech's vaccine is currently at the late-stage trial in Brazil; Butantan, Sao Paulo's research institute in charge of testing, declared yesterday that Sinovac's vaccine, called CoronaVac, is 50% effective. Nevertheless, Butantan said that Sinovac had requested for two more weeks before concluding on the efficacity level so that the company can consolidate data from trials conducted in other countries. The Brazilian government has secured close to 150 million doses of vaccines against the coronavirus; close to a third of the doses will come from the Chinese producer Sinovac.
As market volatility continues to swing, many continue purchasing physical precious metals. Savvy investors think of the ownership of physical precious metals as a means of portfolio diversification, and thus, as a shield from the uncertainty of equity markets. Nevertheless, precious metals should always be viewed as a long-term investment; the key to profitability through the ownership of physical precious metals is to acquire the physical product and hold on to it for the long term. Always remember that you should never overextend your ability to maintain ownership of your precious metals over the long run.
Trading Department—Precious Metals International, Ltd.
Trading Department
Precious Metals International, Ltd.
Friday to Friday Close (New York Closing Prices)
Dec. 18, 2020
Dec. 24, 2020
Net Change
Gold
 $1,884.63
 $1,879.70
-4.93
-0.26%
Silver
25.90
25.77
-0.13
-0.50%
Platinum
1,039.82
1,028.15
-11.67
-1.12%
Palladium
2,369.95
2,350.90
-19.05
-0.80%
Dow
30179.05
30199.87
20.82
0.07%
Previous year Comparisons
Dec. 27, 2020
Dec. 24, 2020
Net Change
Gold
1,513.65
1,879.70
366.05
24.18%
Silver
17.87
25.77
7.90
44.21%
Platinum
949.10
1,028.15
79.05
8.33%
Palladium
1,911.20
2,350.90
439.70
23.01%
Dow
28645.33
30199.87
1554.54
5.43%
Here are your Short Term Support and Resistance Levels for the upcoming week.
| | | |
| --- | --- | --- |
| | Gold | Silver |
| Support | 1860/1800/1750 | 25.00/24.50/24.00 |
| Resistance | 1920/1950/1980 | 26.00/27.00/28.00 |
| | Platinum | Palladium |
| Support | 1000/950/900 | 2300/2200/2100 |
| Resistance | 1050/1100/1150 | 2450/2500/2650 |
This is not a solicitation to purchase or sell.
© 2020, Precious Metals International, Ltd.