1. The U.S.-China trade dispute continues to provoke uncertainty and volatility in all markets. The impeachment inquiry into President Donald Trump's dealings with Ukraine also continues to foster division and gridlock within the U.S. government.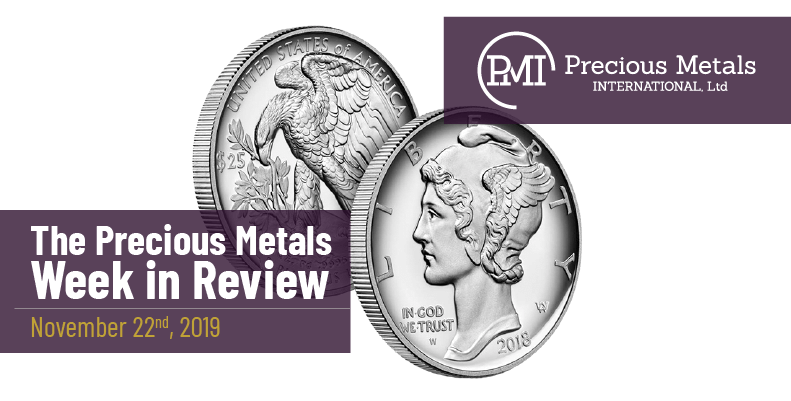 2. The seasonally adjusted number of Americans filing initial claims for state unemployment was essentially unchanged from the previous week's revised level of 227,000 for the week ending November 16. The previous week's data was revised higher by 2,000 claims. The four-week moving average increased by 3,500 claims from the previous week's revised average and stood at 221,000 claims. The previous week's moving average of claims was revised higher by 500 claims. We can continue to expect the unemployment data to be volatile over the next couple of months as the holiday shopping season gets under way. The physical "brick and mortar" retail sector continues to show signs of stress as consumers shift their holiday shopping to online venues.
3. A Wall Street Journal report said that Ray Dalio's Bridgewater Associates, the world's largest hedge fund, has staked more than $1 billion that equity markets worldwide will see a correction over the next three months. According to the report the firm paid roughly $1.5 billion for put options, which give investors the option of selling stocks at a predetermined price by a set date. Those options will pay off if either the S&P 500, the Euro Stoxx 50, or both decline during the next three months. Bridgewater at first seemed to confirm the report, sending a statement to CNBC saying "Though we won't comment on our specific positions we do want to make two things clear. First, the way we manage money is to have many interrelated positions, often to hedge other positions, and these change often, so that it would be a mistake to look at any one position at any one time to try to deduce the motivation behind that position. Second, we have no positions that are intended to either hedge or bet on any potential political developments in the U.S." Ray Dalio took to CNBC later in the day on Friday to refute the WSJ's story entirely, saying "It's wrong. I want to make clear that we don't have any such net bet."
4. The odds that a trade deal between the U.S. and China, even the much-publicized "Phase one" deal, will be signed before the end of the year appear to be diminishing. On Tuesday, the U.S. Senate voted unanimously to support Hong Kong's anti-government protesters. The "Hong Kong Human Rights and Democracy Act" will now go to the House of Representatives, which approved a similar piece of legislation last month. The two chambers must reconcile the differences between their two bills prior to sending a unified bill to President Trump's desk for signature into law. A second piece of legislation, also passed unanimously in the Senate, would ban the export of crowd control devices such as tear gas, pepper spray, rubber bullets and stun guns to Hong Kong police forces. The White House has not yet commented on whether it would approve the measures.
5. On Wednesday, China's foreign ministry leveled criticism at the U.S. for the legislation that the Senate had passed the day before. Foreign Ministry spokesperson Geng Shuang said "The Hong Kong Human Rights and Democracy Act interferes in China's domestic affairs." Geng said that Beijing "strongly condemns and resolutely opposes" the act of interference represented by the new legislation. China's foreign ministry also said in a statement that it "has made stern representations to a U.S. embassy official in Beijing" on Wednesday.
6. The Hong Kong anti-government protests continued unabated this week and sparked further violence. Protesters barricaded themselves inside the Hong Kong Polytechnic University for days, leading to police moving in to attempt to evict them. Sunday evening, police surrounded the University and demanded that those inside disperse. Early on Monday, officers dressed in riot gear stormed an entrance as the protesters set blazes and threw gasoline bombs. The People's Liberation Army put in a peaceful appearance elsewhere in the city, assisting local forces with debris cleanup on several streets. China's military forces are only allowed in Hong Kong to "help maintain public order" at the request of the local government, and governmental officials have reportedly not requested such assistance.
7. Christine Lagarde, former head of the International Monetary Fund and current President of the European Central Bank, has issued a call for the euro zone to adapt to the "new realities" of global trade. Lagarde said "World trade is being reordered as new technologies disrupt conventional supply chains and workplace organization, and as potential new risks emerge from climate change. All this obviously has implications for our external sector, not least because the euro area's exports are intense in capital and intermediate goods." Lagarde continued, saying "Europe needs to innovate and invest to respond to these challenges and preserve its competitiveness in the longer run. But it also suggests that the high rates of trade growth that we are used to seeing are no longer an absolute certainty."
8. Crude oil was under some pressure this week, as U.S.-China trade worries resumed amid a perceived lack of progress in getting "Phase one" signed before the end of the year. Earlier in the week, before the U.S.-China news put pressure on prices again, oil had rallied higher on reports that OPEC and Russia are contemplating extending their existing production cuts by another three months when they meet December 5 and 6. Brent crude settled at $63.57 a barrel on Friday while West Texas Intermediate settled at $57.77.
9. The euro drifted higher against the U.S. dollar at the start of trading for the week, then spiked higher late Monday. From there the euro bounced along in a narrow trading range, dipping slightly through Wednesday before moving back to its highs for the week late on Thursday night. The euro took a sharp lower turn late Thursday, paused and attempted a recovery on Friday boot soon accelerated its downward move as Friday's close drew near. The euro will finish out the week to the downside against the U.S. dollar. The Japanese yen took a sharp drop against the U.S. dollar as trading began this week but had recovered and moved back into positive territory by Monday afternoon. The yen bounced along in a very narrow trading range for the rest of the week and will finish the out slightly to the upside against the U.S. dollar for the week.
All eyes remain focused on the U.S.-China trade negotiations in the wake of comments made by the leaders of both sides this week. President Trump said at a Cabinet meeting on Tuesday that "If we don't make a deal with China, I'll just raise the tariffs even higher." Chinese Foreign Minister Wang Yi told former US Secretary of Defense William Cohen at a meeting in Beijing on Thursday that "Right now, the China-US relationship has reached a critical crossroads. But we regret to see that some politicians in the United States are now smearing, attacking, slandering China to a level close to madness." Wang Yi's comments came after the US Senate unanimously passed two bills this week directly aimed at the ongoing protests in Hong Kong.
The "Hong Kong Human Rights and Democracy Act" moves from the Senate to the House of Representatives now to be reconciled with their version of the same legislation. If the two bills can be reconciled, then the legislation would be sent to President Trump's desk for signature into law. Even without the added pressure of the upcoming legislation and what China has deemed is direct interference by the U.S. in its internal affairs, it seems the two sides are still struggling to reach basic agreement on how many of the tariffs that are currently in place should be removed under the "phase one" deal.
China is also likely stalling somewhat, waiting to see the outcome of the impeachment inquiry into President Trump's dealings with Ukraine. That impeachment process remains ugly, with both sides unceremoniously grilling witnesses who all appear to have no real direct knowledge of the events. The phrases "I presumed", "I assumed", "Everyone knew" were repeated frequently by each witness and when directly asked if they'd been instructed by President Trump to offer aid to Ukraine in exchange for investigations into the Biden family, they have thus far all said "no". The likelihood that President Trump will actually be impeached is fairly slim, given that Senate Majority Leader Mitch McConnell has effectively said the Senate will not cast enough votes to oust the president even if the impeachment process passes the House of Representatives and reaches the Senate's chambers.
The status of the U.K.'s exit from the EU effectively flew under the radar this week as mainstream media seemed to ignore it in favor of news over the Trump impeachment inquiry and the Hong Kong protests. The U.K. is still slated to conduct a national election in early December and participants are campaigning hard and making promises they likely cannot keep. Boris Johnson said this week that all of his Conservative Party candidates have pledged to back his Brexit deal should the Conservatives win a majority in Parliament. Helping the Conservative Party's case, the Brexit Party has agreed to stand down from races challenging over 40 seats that the Conservative Party does not yet hold. Most analysts see this move as assuring that Conservatives may win those seats, placing them in the majority for the first time in years.
The entire Brexit process has been marred by the "hung" U.K. Parliament's inability to agree on the details of several agreements negotiated with Brussels and brought before it for approval. With no clear majority in charge, Parliament has been governed by a fractious coalition that simply could not agree on a Brexit package.
With the perpetual uncertainty surrounding Brexit, Impeachment, US-China relations, and the overall health of the global economy, investors continue to take steps to ensure that their portfolios remain diversified against a sudden downturn in the equity markets. Many investors continue to stockpile physical precious metals as a diversification play, taking their cues from the world's central banks, which are doing the same.
Remember that precious metals should always be viewed as a long-term investment and that the key to profitability through the ownership of physical precious metals is to actually acquire and own the physical products and to hold them for the long term. Always remember that you should never overextend your ability to maintain ownership of your precious metals over the long term.
Trading Department
Precious Metals International, Ltd.
Friday to Friday Close (New York Closing Prices)
| | | | |
| --- | --- | --- | --- |
| | Nov. 15th2019 | Nov. 22nd2019 | Net Change |
| Gold | $1468.05 | $1463.70 | (4.35) – 0.30% |
| Silver | $16.99 | $17.04 | 0.05 + 0.29% |
| Platinum | $892.80 | $890.30 | (2.50) – 0.28% |
| Palladium | $1718.75 | $1777.15 | 58.40 + 3.40% |
| Dow Jones | 28004.89 | 27875.62 | (129.27) – 0.46% |
Previous year Comparisons
| | | | |
| --- | --- | --- | --- |
| | Nov. 23rd2018 | Nov. 22nd2019 | Net Change |
| Gold | $1223.50 | $1463.70 | 240.20 + 19.63% |
| Silver | $14.31 | $17.04 | 2.73 + 19.08% |
| Platinum | $842.10 | $890.30 |  48.20 + 5.72% |
| Palladium | $1122.90 | $1777.15 | 654.25 + 58.26% |
| Dow Jones | 24285.95 | 27875.62 | 3589.67 + 14.78% |
Here are your Short Term Support and Resistance Levels for the upcoming week.
| | | |
| --- | --- | --- |
| | Gold | Silver |
| Support | 1460/1440/1400 | 16.80/16.50/16.20 |
| Resistance | 1480/1525/1550 | 17.15/17.50/17.80 |
| | Platinum | Palladium |
| Support | 875/830/800 | 1750/1725/1700 |
| Resistance | 900/930/960 | 1790/1825/1850 |
This is not a solicitation to purchase or sell.
© 2019, Precious Metals International, Ltd.