1. The political pressure against President Trump continued to escalate as the impeachment inquiry got underway this week. The entire inquiry appears to be based around whether Trump pressured Ukraine's president to conduct an investigation into the Biden family and Trump doubled down this week when he said, during a televised interview with reporters as he was departing for a trip to Florida, that he believed China's President Xi Jinping should also conduct an investigation into the Biden family.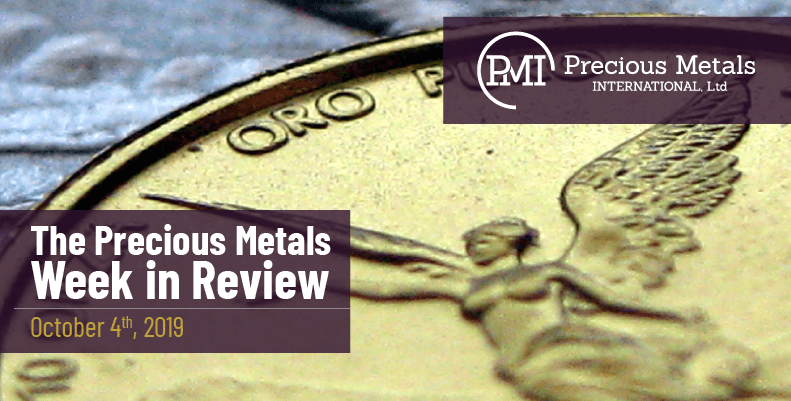 2. The seasonally adjusted number of Americans filing initial claims for state unemployment jumped by 4,000 claims from the previous week's revised level to a new level of 219,000 claims for the week ending September 28. The previous week's level was revised higher by 2,000 claims. The four-week moving average was unchanged from the previous week's revised average and stood at 212,500 claims. The previous week's moving average of claims was revised higher by 500 claims.
3. On Friday, the Non-Farm Payrolls Report for September was released and came in slightly under economists' expectations. The U.S. economy added 136,000 jobs in September, just under the 145,000 that economists had expected. Unemployment fell to a 50-year low of 3.5 percent, but wages continued to grow at a near-stagnant pace. The number was basically a "goldilocks" level, meaning the economy still appears to be sluggish, neither sliding to the downside nor growing to the upside. The softer-than-expected number of job additions likely gives the Federal Reserve room to cut rates further when they hold their next Federal Open Market Committee meeting to determine the course of monetary policy. Analysts largely expect the Fed to cut rates by another 25 basis points when they meet later this month.
4. Two additional economic reports released earlier this week appeared to show continued weakness in the underlying U.S. economy. The Institute for Supply Manufacturing Survey, commonly called the ISM manufacturing survey, was released on Tuesday and showed that just over 46% of companies are hiring. The number shows that there is an industry-wide contraction in hiring by manufacturers. On Thursday, the nonmanufacturing survey was released, and it showed that just over 50% of companies in the services sector are planning to hire in the near future. For both surveys, a number falling below 50% indicates a contraction in the sector. The two numbers appear to indicate that optimism in both the manufacturing and services sector is waning as businesses lose confidence in the strength of the underlying economy.
5. Barclays' Michael Gapen, head of U.S. economic research at the firm, said this week on CNBC's "Trading Nation" that there is "concern [that] prolonged weakness in manufacturing may be spilling over." Gapen responded, when asked about the chances of a recession, that "Based on the data that we have on hand and understanding how the economy tends to evolve, we would put the number around 25 to 30% chance over say the next four-quarter horizon."
6. The Ifo Institute, one of Germany's leading economic research institutes, released its Joint Economic Forecast for 2019 on Wednesday which downgraded its growth forecast for Europe's largest economy. The report revised GDP growth down from an already meager 0.8% in its spring report to just 0.5%. The report cited falling worldwide demand for capital goods, political uncertainty and structural changes in the automotive industry as reasons for the downgrade. Claus Michelsen, head of forecasting and economic policy at the German Institute for Economic Research (DIW Berlin), said "German industry is in recession, and this is now also impacting the services providers catering to those companies. The fact that the economy is expanding at all is due primarily to the continuing positive spending mood of private households, which is being buoyed by good wage agreements, tax breaks, and the expansion of government transfers."
7. Developments this week in a long-running dispute between the U.S. and Europe over subsidies for aircraft manufacturers could mean an escalation in trade tensions between those two countries over the coming weeks. The World Trade Organization announced that it had sided with the U.S. in the 15-year-old dispute over subsidies provided to Airbus and authorized the U.S. to impose tariffs on $7.5 billion worth of European imports. The EU has a separate but similar suit against the U.S. that the WTO is expected to rule on in the comings months over subsidies provided to its own aircraft manufacturer, Boeing. Should the WTO side with the EU in that dispute, the EU could impose similar retaliatory tariffs on U.S. goods, escalating the ongoing trade disputes that the U.S. is currently involved in on yet another front. In both cases, the findings will likely mean higher costs that will almost certainly be passed on to air travelers.
8. With the October 31 Brexit deadline just scant weeks away, Boris Johnson presented what is expected to be his final Brexit offer to the European Union on Wednesday. The new proposal would avoid a hard border between Northern Ireland and the Republic of Ireland by leaving the North in the European single market for goods but exiting the customs union. This would allow customs checks to take place away from the border, according to the U.K. The EU said more work needed to be done on outlining customs rules, but EU Commission President Jean-Claude Junker said Wednesday that he admired U.K. Prime Minister Boris Johnson's "determination to advance Brexit talks." Prime Minister Johnson said "They [the new proposals] do not deliver everything that we would have wished. They do represent a compromise. But to remain a prisoner of existing positions is to become a cause of deadlock rather than breakthrough." Johnson commented further, saying the U.K. government had "made a genuine attempt to bridge the chasm, to reconcile the apparently irreconcilable, and to go the extra mile as time runs short." U.K. parliament previously passed a law that would require Johnson to ask for an additional delay if a workable deal is not in place by October 19.
One U.K. MP, Jitesh Gadhia, said on the sidelines of the World Economic Forum in New Delhi, India that he thought Johnson's government itself could be in jeopardy surrounding this last-ditch effort. Gadhia said, "If you think about it from the EU perspective and if you look at their choices: Do you seal a deal with Prime Minister Johnson now or do you actually roll the dice on an extension and election hoping that you might have a more favorable counterparty?"
9. Russia confirmed this week that it was helping China construct a missile defense system capable of countering ballistic and cruise missiles. Currently, only Russia and the U.S. have such systems in place and the move is a sign of much closer cooperation between Russia and China on a military level than previously seen. Russian President Vladimir Putin, speaking at an international affairs conference in Sochi this week said, "This is a very serious thing that will dramatically increase China's defense capability because only the U.S. and Russia have such a system now."
10. Oil prices jumped on Friday after the U.S. Non-Farm Payrolls Report showed that unemployment rates in the U.S. were at 50-year lows. Despite Friday's gains, oil was on track for another weekly loss on fears that a continued economic slowdown could trigger a global recession. Brent crude was hovering just under $60 at $58.41 a barrel while U.S. West Texas Intermediate (WTI) crude was sitting at just over $52 a barrel.
11. The euro began the week drifting sideways against the U.S. dollar but soon began dropping as the month of September came to a close. The euro touched its lows for the week around mid-day on Tuesday and then began marching higher against the dollar with only a few minor dips back to the downside. The euro reentered positive territory against the U.S. dollar late on Wednesday and continued climbing through the rest of the week. The euro will close out the week slightly to the upside against the U.S. dollar. The Japanese yen began the week drifting slightly to the downside against the U.S. dollar, but the yen too touched its lows for the week on Tuesday afternoon. The yen spiked back into positive territory after touching its lows and spent the rest of the week in a fairly steep and steady climb that will see the yen close out the week slightly to the upside against the U.S. dollar.
The Non-Farm Payrolls Report for September was released this week and was not quite good enough to alleviate fears that a U.S. recession is on the horizon. Unemployment did drop to 50-year lows, but signs of a slowdown in the manufacturing sector reinforced fears that the economy may be entering a contractionary period, especially when combined with other manufacturing data released earlier in the week.
The ongoing impeachment inquiry into President Donald Trump reached new heights this week as it was revealed that Adam Schiff, the chair of the House Intelligence Committee, not only lied about not having previous contact with the so-called whistleblower who submitted the complaint that kicked off the inquiry, but also completely fabricated a conversation between President Trump and Ukrainian President Volodymyr Zelensky during his opening statements at the committee meeting to start the impeachment process. When pressed on the nature of his comments, Schiff admitted that his behavior had been "wrong" but claimed that the entire made-up conversation he seemed to present as if it was fact was instead "a parody". It is shocking that Schiff takes the impeachment of a sitting president of the United States in such a joking manner. His actions have likely weakened the Democrats' case for impeaching the president and the Republicans have already called for action to be taken against Representative Schiff for the incident.
President Trump "doubled down" on his criticism of one of his chief political rivals this week. Trump called out one of his chief political rivals, Mr. Joe Biden, saying during a televised live interview that he hopes China's President Xi Jinping launches his own investigation into the Biden family's ties and operations in China, just as he hopes Ukraine will. Trump spent the rest of the week trying to assure the press that his comments regarding a Chinese investigation into the Bidens were a completely separate issue to the upcoming resumption of trade negotiations that are supposed to begin later this month. As soon as Trump uttered the words, the media began to speculate on whether an investigation into the Bidens might be used as a bargaining chip in the trade talks.
Many analysts have speculated that with the increasing political pressure on President Trump, it may be in China's best interests to sit back and wait to see what happens in the 2020 elections before agreeing to any new binding trade deals with the U.S. A trade deal with China is thought to be crucial to Trump's chances at reelection in 2020 so if China backs away from the new negotiations, it could do further damage to Trump's hopes for reelection.
In Europe, as the United Kingdom heads towards its latest deadline to leave the European Union, Prime Minister Boris Johnson submitted what most assume will be the final draft of his version of a "Brexit agreement" to the EU. The EU appeared to view his proposal with a hint of optimism and said that the two sides would spend the next few days negotiating over the specifics with Johnson urging his counterparts to hold "rapid negotiations towards a solution."
Finland, which is currently in the position of holding the EU presidency, said that the 27 other member states of the EU would "engage actively" with the U.K. to review the proposals and chief negotiator for the EU Michel Barnier said that the new proposals represented "progress" at long last.
On the political landscape in the U.S., Senator Elizabeth Warren appears to be gaining ground on her competitors. Bernie Sanders was hospitalized after suffering chest discomfort at a campaign event and underwent a procedure to place two stents in a blocked artery. Sanders remains committed to rejoining the campaign trail and insists that the incident will not prevent him from continuing his run for the presidency. Joe Biden remains in the presidential race but is facing increased scrutiny as President Trump continues to point out some rather suspicious deals that appeared to directly benefit the Biden family while he was vice-President under President Obama.
Protests continued in Hong Kong as its embattled leader decided to invoke emergency laws that allow authorities to "make any regulations whatsoever" if they deem it to be in the best public interest. The emergency laws, not used in more than 50 years, allow officials to establish curfews, censor the media and take control of harbors, ports and transportation. To date Hong Kong's leader, Carrie Lam, has only banned wearing face masks but fear is growing that the laws could be abused. Many of the protestors, fearful of retaliation for participating in the protests, have taken to wearing masks to hide their identities. Many protests have become violent, including hurling of firebombs and other projectiles at police forces responding to the scenes.
The specter of a looming global recession continues to send investors looking for ways to make sure that their portfolios are well-diversified against a sudden downturn in equity markets. The ongoing uncertainty surrounding the trade dispute between the U.S. and China; the U.K.'s upcoming exit from the European Union; a now very apparent slowdown in the German economy, Europe's largest; and the political minefield that has enveloped President Trump ahead of the 2020 election have all been factors that have triggered increased market volatility.
Savvy investors continue to take steps to ensure that they have alternative assets in their portfolios so that they are not overexposed to equity markets. One such asset that many investors have long viewed as a safe haven in times of economic turmoil is physical precious metals. Many of these same investors began making regular acquisitions of physical precious metals, well ahead of the recent price rally, for the purpose of diversifying their portfolios as prices were held at suppressed levels over the last few years.
Remember that precious metals should always be viewed as a long-term investment and that the key to profitability through the ownership of physical precious metals is to actually acquire and own the physical products and to hold them for the long term. Always remember that you should never overextend your ability to maintain ownership of your precious metals over the long term.
Trading Department
Precious Metals International, Ltd.
Friday to Friday Close (New York Closing Prices)
| | | | |
| --- | --- | --- | --- |
| | Sept. 27th2019 | Oct. 4th2019 | Net Change |
| Gold | $1499.90 | $1507.20 | 7.30 + 0.49% |
| Silver | $17.61 | $17.58 | (0.03) – 0.17% |
| Platinum | $930.10 | $882.10 | (48.00) – 5.16% |
| Palladium | $1682.90 | $1669.90 | (13.00) – 0.77% |
| Dow Jones | 26820.25 | 26573.48 | (246.77) – 0.92% |
Month End to Month End Close
| | | | |
| --- | --- | --- | --- |
| | August 30th2019 | Sept. 30th2019 | Net Change |
| Gold | $1520.70 | $1466.80 | (53.90) – 3.54% |
| Silver | $18.24 | $16.95 | (1.29) – 7.07% |
| Platinum | $928.60 | $884.30 | (44.30) – 4.77% |
| Palladium | $1546.70 | $1677.50 | 130.80 + 8.46% |
| Dow Jones | 26403.28 | 26916.83 | 513.55 + 1.95% |
Previous year Comparisons
| | | | |
| --- | --- | --- | --- |
| | Oct. 5th2018 | Oct. 4th2019 | Net Change |
| Gold | $1205.60 | $1507.20 | 311.00 + 26.00% |
| Silver | $14.65 | $17.58 | 2.87 + 19.51% |
| Platinum | $824.50 | $882.10 |  63.40 + 7.74% |
| Palladium | $1057.10 | $1669.90 | 597.10 + 55.66% |
| Dow Jones | 26447.05 | 26573.48 | 115.17 + 0.44% |
Here are your Short Term Support and Resistance Levels for the upcoming week.
| | | |
| --- | --- | --- |
| | Gold | Silver |
| Support | 1480/1460/1440 | 17.50/17.10/16.90 |
| Resistance | 1525/1550/1580 | 17.80/18.00/18.50 |
| | Platinum | Palladium |
| Support | 875/850/825 | 1650/1620/1600 |
| Resistance | 900/930/960 | 1690/1710/1730 |
This is not a solicitation to purchase or sell.
© 2019, Precious Metals International, Ltd.