1. Geopolitical tensions in the Middle East erupted again this week as Iran was accused of attacking two oil tankers in the Gulf of Oman, as well as supporting an attack against an airport in Saudi Arabia.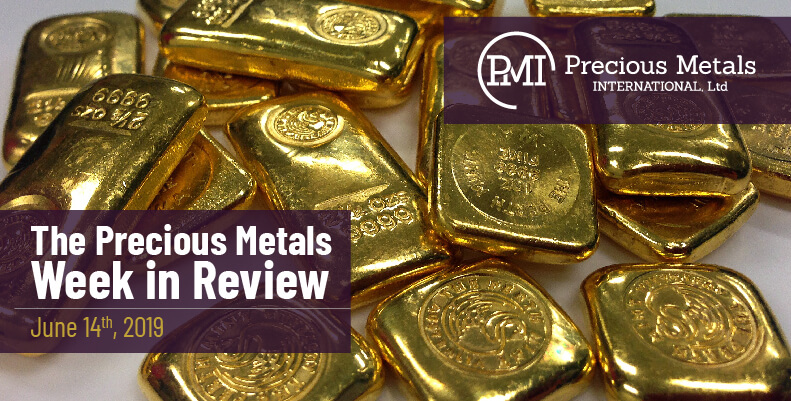 2. The seasonally adjusted number of Americans filing initial claims for state unemployment was 222,000 for the week ending June 8, up by 3,000 claims from the previous week's revised level. The previous week's data was revised higher by 1,000 claims. The four-week moving average of claims increased by 2,500 from the previous week's revised average to reach a new level of 217,750. The previous week's moving average of claims was revised higher by 250.
3. Tensions in the Middle East erupted this week starting early Wednesday morning when Saudi Arabia's Abha airport was struck by a cruise missile. Yemen's Houthi rebels claimed responsibility for the missile strike which injured 26 civilians. The missile strike came just one day after Saudi officials announced that they had intercepted two drones that had been launched by the Houthis. A joint statement by the Saudi-led coalition that is fighting the group said "The targeting of Abha airport proves that the Houthis have obtained advanced weapons from Iran."
4. Following the attack on Abha airport, two oil tankers in the Gulf of Oman were attacked on Thursday. Both vessels sustained extensive damage and had to evacuate their crews. The Trump administration blamed Iran for the strikes, with Secretary of State Mike Pompeo saying at a press conference on Thursday that "This assessment is based on intelligence, the weapons used, the level of expertise needed to execute the operation, recent similar Iranian attacks on shipping and the fact that no proxy group operating in the area has the resources and proficiency to act with such a high degree of sophistication." Iran denies responsibility for the attacks, noting that the vessels had ties to Japan and that the attacks occurred while Prime Minister Shinzo Abe was meeting with Ayatollah Khamenei for "extensive and friendly talks." Iranian Foreign Minister Javad Zarif noted that fact, tweeting on Thursday that "Suspicious doesn't begin to describe what likely transpired this morning. Iran's proposed Regional Dialogue Forum is imperative."
5. The U.S. and Mexico apparently came to an agreement over some form of border deal that headed off the planned tariffs that were due to go into effect on Mexican goods destined for the U.S. beginning Monday, June 10. The details of the agreement have not yet been released but in a joint statement released on Friday, both countries said that Mexico would take "unprecedented steps to increase enforcement to curb irregular migration, to include the deployment of its National Guard throughout Mexico." The statement also said that priority would be given to Mexico's southern border to attempt to slow the flow of incoming migrants from Central America.
6. President Trump seemed to take heart from his deal with Mexico with regards to the ongoing dispute with China, telling CNBC's Joe Kernen on the early morning "Squawk Box" program that "The China deal is going to work out. You know why? Because of tariffs. Because right now China is getting absolutely decimated by countries that are leaving China, going to other countries, including our own." Trump said later in the phone interview that China is "going to make a deal because they're going to have to make a deal."
7. As the Federal Reserve gets set to hold its next Federal Open Market Committee meeting to determine the future course of U.S. monetary policy, a new survey by personal finance site Bankrate.com revealed that many Americans have yet to see their finances recover from the blow delivered by the so-called "Great Recession". Mark Hamrick, senior economic analyst at Bankrate.com said "There are still tens of millions who are struggling to even get back to where they were before the economy took a turn for the worse." Mr. Hamrick said "Many Americans are still digging out from the recession. Even a modest downturn is going to cause further harm to Americans' personal finances."
8. In Asia, violent protests erupted in Hong Kong over a proposed bill that would allow extraditions to China. Hong Kong became a special administrative region of China once the British ceded control but has largely retained the autonomy it enjoyed as a British colony. The region has also retained its special customs status with the U.S. due to the existence of that autonomy, but that special status might be jeopardized if the new law handed down from Beijing goes into effect. The U.S. objects to the law, saying that Hong Kong's autonomy is being steadily eroded by edicts handed down from Beijing. Under the special customs status, Hong Kong exports to the U.S. are not currently subject to the crippling tariffs on other Chinese goods headed to the U.S. Activists in Hong Kong are reported to be planning a mass rally over the weekend to further protest the extradition bill, despite facing the risk of more hospitalizations, exposure to tear gas, and the threat of having fire hoses turned against them.
9. French Finance and Economy Minister Bruno Le Maire, speaking with CNBC over the weekend at a G-20 Finance Ministers meeting, said that if the U.S. and China continue to escalate the trade dispute between their respective countries it would have a "direct and very negative impact all over the world, especially Europe and the Eurozone." Le Maire noted that the effects are already being felt in Europe, saying "We [France and Germany] do not have the growth figures we should have because of the trade tensions between the U.S. and China." Le Maire continued, saying "I want to be very clear; a trade war would mean an economic crisis all over the world, and especially in Europe."
10. Despite rising tensions in the Middle East that have the potential to threaten much of the world's oil supply, prices remained on track for a weekly loss due to forecasts by the International Energy Agency and OPEC. Both the IEA and OPEC cut their forecasts for growth in global oil demand over fears that the ongoing trade disputes could trigger a drop in global demand, even if there were to be a hit to the supply chain.
11. The euro began the week with a slight dip against the U.S. dollar which had reversed course by Monday morning. The euro began drifting higher on Monday, reaching its highs for the week by mid-Wednesday. On Wednesday the euro moved sharply lower, halting the plunge and attempting a recovery in late evening hours, before resuming its downward trend by mid-day on Thursday. On Friday, the euro accelerated its move to the downside and will close out the week lower against the U.S. dollar. The Japanese yen began the week with a near-vertical plunge to the downside against the U.S. dollar, but soon recovered some ground and began moving higher in jagged spikes. By early Tuesday, the yen had reversed course and moved to its lows against the U.S. dollar by mid-day. The yen turned again, resuming its upward climb late Tuesday and moved in spikes and valleys, trending generally higher through Friday's trading. On Friday, just before the close, the yen took another sharp downward turn and will finish out the week lower against the U.S. dollar.
Despite the U.S. "suspending indefinitely" the planned 5% tariffs on goods coming in from Mexico over the weekend after reaching some form of agreement over illegal immigration over the weekend, trade disputes likely will remain the most significant factor to affect markets in the coming weeks.
The U.S. and China still have not made any further progress on their ongoing trade dispute and President Trump actually said this week when asked about the possibility of a meeting with President Xi Jinping at the G-20 meeting later this month "If he shows up, good, if he doesn't… in the meantime, we're taking in billions of dollars a month [in tariffs] from China." The comments were made on Fox News' "Fox & Friends" show after one of the hosts pointed out that China had actually not made a commitment to attend the upcoming summit. There are few expectations that a Trump-Xi meeting at the G-20 summit would result in a deal, or even any real progress towards resolving the ongoing dispute, but many political analysts remain hopeful that such a meeting could at least result in both sides being willing to come back to the negotiating table once more.
Other geopolitical issues, namely in the Middle East, have also escalated in recent weeks. Iran allegedly helped support attacks in Saudi Arabia this week by providing advanced weaponry to Houthi rebels in Yemen, Iran has also largely been blamed for several oil tanker attacks in recent weeks. The latest two attacks, carried out on Thursday, resulted in explosions that crippled two Japanese-based vessels and forced their crews to abandon their ships. Iran denies responsibility for either incident but has apparently been actively blocking boats from assisting the vessels back to safe harbor. The general consensus across the globe seems to be growing that Iran is using such attacks as a means to show the U.S. that it could seriously jeopardize the transport of oil through the region as a result of the sanctions that have been place on it.
Confusion still seems to reign supreme in the U.K. over Brexit. Political analysts seem completely at a loss to determine whether the U.K. will exit the E.U. with "no deal", come up with a viable Brexit plan at the last minute, or simply hold another referendum on whether to abandon the exit process altogether. Firebrand Boris Johnson, a staunch supporter of Brexit, appears to be the front-runner for the U.K.'s next Prime Minister now that Theresa May has given up the post. Boris Johnson is somewhat of a maverick and has been called the "Mini-Trump across the Channel" in media outlets throughout the European Union. Many of these same media outlets have described his potential appointment as the U.K.'s next Prime Minister as "a calamity for his country and for Europe".
Savvy investors continue to take steps to make sure their portfolios are as diversified as possible amid growing signs that equity markets are long overdue for a correction. The U.S. Federal Reserve is now widely expected to reverse course and embark on interest rate cuts – despite the fact that the U.S. economy is supposed to be booming, according to its data.  Inflation remains stubbornly low in the U.S. and fears are growing that the country could face a period similar to Japan's "lost decade" of low growth and deflation.
As precious metals prices have remained suppressed, many investors have continued to acquire additional physical precious metals to aid in the diversification of their portfolios, viewing them as a historically "safe haven" play in times of geopolitical and economic turmoil.
Remember that precious metals should always be viewed as a long-term investment and that the key to profitability through the ownership of physical precious metals is to actually acquire and own the physical products and to hold them for the long term. Always remember that you should never overextend your ability to maintain ownership of your precious metals over the long term.
Trading Department
Precious Metals International, Ltd.
Friday to Friday Close (New York Closing Prices)
| | | | |
| --- | --- | --- | --- |
| | June 7th2019 | June 14th2019 | Net Change |
| Gold | $1341.90 | $1340.95 | (0.95) – 0.07% |
| Silver | $15.05 | $14.83 | (0.22) – 1.46% |
| Platinum | $807.35 | $805.45 | (1.90) – 0.24% |
| Palladium | $1371.50 | $1479.00 | 107.50 + 7.84% |
| Dow Jones | 25983.94 | 26089.61 | 105.57 + 0.41% |
Previous year Comparisons
| | | | |
| --- | --- | --- | --- |
| | June 15th2018 | June 14th2019 | Net Change |
| Gold | $1276.40 | $1340.95 | 64.55 + 5.06% |
| Silver | $16.60 | $14.83 | (1.77) – 10.66% |
| Platinum | $888.00 | $805.45 |  (82.55) – 9.30% |
| Palladium | $993.00 | $1479.00 | 486.00 + 48.94% |
| Dow Jones | 25090.48 | 26089.61 | 999.13 + 3.98% |
Here are your Short Term Support and Resistance Levels for the upcoming week.
| | | |
| --- | --- | --- |
| | Gold | Silver |
| Support | 1320/1300/1280 | 14.80/14.50/14.10 |
| Resistance | 1350/1380/1400 | 15.00/15.25/15.50 |
| | Platinum | Palladium |
| Support | 800/780/760 | 1400/1350/1280 |
| Resistance | 820/840/860 | 1480/1520/1580 |
This is not a solicitation to purchase or sell.
© 2019, Precious Metals International, Ltd.