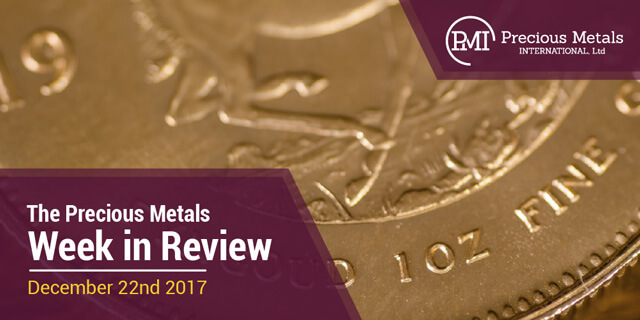 1. This week the news was mostly focused on the much-publicized tax reform bill that the U.S. Congress has been working to put before President Trump. The Senate and the House of Representatives managed to cobble together a compromise bill at the last minute and have it on Mr. Trump's desk prior to Christmas, as he had hoped. The bill was signed into law by President Trump on Friday.
2. The seasonally adjusted number of Americans filing initial claims for state unemployment surged massively, by 20,000 claims to a new level of 245,000 for the week ending December 16. The previous week's level remained unrevised. The four-week moving average of claims increased by 1,250 to a new level of 236,000 from the previous week's unrevised average. Claims submissions in the Virgin Islands continue to be disrupted by the damage from this year's deadly hurricane season and Puerto Rico's processing has also not returned to normal. We can expect extreme volatility in the weekly unemployment numbers for the next several months as temporary seasonal employment opportunities come to an end and additional workers reenter the employment pool in search of more permanent work.
3. The U.S. state of California remained ablaze this week as the fire known as "The Thomas Fire" continued to burn its way across Southern California in what has now become the worst wildfire ever to be recorded in the state's history. By Friday, the Thomas fire was believed to be about 65 percent contained and state officials lifted many of the evacuation orders that have been in place since the blazes broke out in early December. The blazes have destroyed several agricultural areas in Southern California, including avocado farms, grazing lands, and beekeeping businesses, in addition to devastating losses among private homes and businesses.
4. On Tuesday, Saudi Arabia announced that it had intercepted a Houthi missile that was fired towards Riyadh. A spokesman for the Houthi movement confirmed that a ballistic missile had targeted the royal court at al-Yamama palace where a meeting was under way just hours before a news conference that was to be attended by senior Saudi ministers. There were no reports of casualties and the Saudi air defense systems appear to have successfully been deployed to intercept the projectile.
5. The Trump administration approved a plan to provide weaponry to Ukraine this week, including Javelin anti-tank missiles to help it fight Russian-backed separatists that have been trying to carve out more territory away from Ukraine and annex it in to Russia since 2014. The new weaponry deal is likely to add to the growing tensions between the U.S. and Russia. The U.S. State Department said on Friday that "U.S. assistance [to Ukraine] is entirely defensive in nature, and as we have always said, Ukraine is a sovereign country and has a right to defend itself."
6. The owner of a cryptocurrency exchange called Youbit in South Korea filed for bankruptcy this week, following a hack that it claimed cost it 17 percent of its cryptocurrency assets. The exchange said that its customers would only receive 75% of their holdings for the moment, until the company completes its bankruptcy proceedings. This is the second such hack for Youbit. The first hack occurred in April and South Korea's Internet and Security agency blamed that attack on cyber spies working for North Korea. Youbit's collapse adds another name to the growing list of cryptocurrency exchanges that have suffered hacks, security breaches, and employee fraud as the bubble surrounding virtual currencies has continued to expand.
7. Venezuela apparently failed to honor a settlement payment with Canada-based mining company Crystallex International this month and on Thursday the company urged a federal judge to allow it to seize control of Citgo Petroleum, a U.S. oil refiner that is owned by Venezuela's PDVSA, a Venezuelan state-owned oil company.
8. South Korean guards fired up to 20 warning shots at North Korean troops this week as they searched for a soldier who had defected to the South on Thursday. South Korea's Joint Chiefs of Staff said that at around 8 am local time on Wednesday, a low-ranking soldier crossed the border without incident in heavy fog that limited visibility to just over 100 yards. Surveillance equipment picked up the defector and he was detained by the South for questioning.
9. Oil prices continued to hover near $60-a-barrel this week as global demand continued to appear as if it may begin soaking up some of the multi-year supply glut.
10. The euro moved higher against the U.S. dollar in a fairly steady trend for most of the week. The euro seemed to find its high for the week late on Wednesday as the U.S. Congress completed its finalization of the tax reform bill. Despite a slight drop on Friday after the tax bill was signed by President Trump, the euro will close the week out higher against the U.S. dollar. The Japanese yen spent most of the week declining against the U.S. dollar, finding a floor on Thursday and then essentially drifting sideways into Friday's close. The yen will close the week out slightly lower against the U.S. dollar.
As we enter the final weeks of 2017, the bubbles that have been proliferating throughout equities and virtual currencies, particularly during the second half of the year, continue to show signs of stress. Cryptocurrencies in particular have reached record levels of mania that have continued to draw comparisons to the "tech bubble" in the 1990s and the U.S. housing market bubble in the early-to-mid 2000s as unsophisticated investors just kept piling into those markets just before each of them burst.
An officer for one crypto-currency startup that was interviewed on CNBC this week, when asked to justify the valuation of his company, essentially said "I can't, this valuation and the market cap makes no sense at all. My company should have never been valued at these levels." Virtual currency exchanges continue to be hit by reports of security holes, hacks and accusations of fraud.
Geopolitical issues also continue to bear watching as North Korea continues its pursuit of nuclear armaments, there is continued turmoil in the Middle East, and the potential for the U.S. to become embroiled in the battle between Ukraine and its Russian separatists by providing new, higher tech, armaments to Ukraine becomes a very real possibility.
Political turmoil is also still rampant across Europe as various elections around the continent have resulted in weaker governments, or no viable government at all. Germany's leadership continues to founder as its political parties cannot resolve their infighting to form a coalition government.
In the U.K., Prime Minister Theresa May's efforts to steer the country through its lengthy exit process from the European Union seems to be continually hampered by a recalcitrant parliament. In the U.S., analysts across the board kept saying the tax reform bill was "priced in" to the markets, yet when the bill was finally signed into law by President Trump, the equity markets apparently saw one of the largest capital outflows in recent history.
As uncertainty rules the day and bubbles show signs of slowing their expansion and nearing the bursting point, savvy investors have once again begun turning to physical precious metals as a means to diversify and protect their portfolios against overexposure to one or more riskier assets.
Remember that precious metals should always be viewed as a long-term investment and that the key to profitability through the ownership of physical precious metals is to actually acquire and own the physical products and to hold them for the long term. Always remember that you should never overextend your ability to maintain ownership of your precious metals over the long term.
Trading Department
Precious Metals International, Ltd.
Friday to Friday Close (New York Closing Prices)
| | | | |
| --- | --- | --- | --- |
| | Dec 15th2017 | Dec 22nd2017 | Net Change |
| Gold | $1255.41 | $1275.00 | 19.59 + 1.56% |
| Silver | $16.05 | $16.37 | 0.32 + 1.99% |
| Platinum | $891.50 | $919.00 | 27.50 + 3.08% |
| Palladium | $1024.00 | $1030.00 | 6.00 + 0.59% |
| Dow Jones | 24651.74 | 24754.06 | 102.32 + 0.42% |
Previous year Comparisons
| | | | |
| --- | --- | --- | --- |
| | Dec. 23rd2016 | Dec 22nd2017 | Net Change |
| Gold | $1133.00 | $1275.00 | 142.00 + 12.53% |
| Silver | $15.73 | $16.37 | 0.64 + 4.07% |
| Platinum | $896.00 | $919.00 |  23.00 + 2.57% |
| Palladium | $662.00 | $1030.00 | 368.00 + 55.59% |
| Dow Jones | 19933.81 | 24754.06 | 4820.25 + 24.18% |
Here are your Short Term Support and Resistance Levels for the upcoming week.
| | | |
| --- | --- | --- |
| | Gold | Silver |
| Support | 1260/1240/1225 | 16.30/16.15/15.90 |
| Resistance | 1280/1310/1350 | 16.60/16.80/17.00 |
| | Platinum | Palladium |
| Support | 900/885/845 | 1000/975/950 |
| Resistance | 935/960/985 | 1030/1050/1070 |
This is not a solicitation to purchase or sell.
© 2017, Precious Metals International, Ltd.