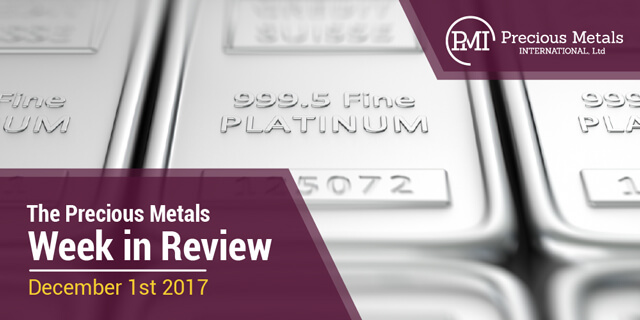 1. Despite continued geopolitical uncertainty this week, the bubbles in equities and crypto-currencies continued to surge to new record levels. The volatility in crypto-currencies alone was enough to spark references to former Fed Chair Alan Greenspan's now renowned "irrational exuberance" remark regarding investor mentality.
2. The seasonally adjusted number of Americans filing initial claims for state unemployment dropped by 2,000 claims to a new level of 238,000 for the week ending November 25 from the previous week's revised level. The previous week's data was revised higher by 1,000 claims. The four-week moving average of claims increased by 2,250 to a new level of 242,250 from the previous week's revised average. The previous week's 4-week average was revised higher by 250. Claims submissions in the Virgin Islands continue to be severely impacted, but Puerto Rico's processing appears to have improved enough to escape mention in the weekly report.
3. North Korea appeared to respond to the Trump Administration's move to place it back on the list of state sponsors of terrorism by conducting another missile test this week. On Wednesday, the hermit nation launched a projectile that is believed to be a new type of intercontinental ballistic missile (ICBM) called the Hwasong-15. A South Korean defense ministry spokesman told Reuters on Friday that the missile had a range of over 13,000 km (8,080 miles), which would mean the projectile could reach all the way to the east coast of the United States.
4. Concerns are growing that the North has not only accelerated its land-based missile capabilities, but is making leaps in its development of submarine launched ballistic missiles (SLBM) as well. The isolated nation is believed to have one operational submarine with a single launch tube capable of firing just a single SLBM, but recent satellite imagery seems to show that the North is getting at least one additional test barge ready that will have the capability to test launch missiles from underneath the water. The expansion of its testing equipment, along with recent renovations to some structures that would be large enough and near enough to water to construct a sizeable submarine could also mean that the north is heavily invested in developing additional submarine-based capabilities, including a larger sub with multiple launch tubes.
5. On Monday, prior to the North's latest missile test, South Korea's defense minister said that North Korea had violated the armistice agreement between the two countries when its soldiers shot at, and wounded, a North Korean soldier as he crossed the border into South Korea in a defection last week. The Korean War never officially ended, as a peace treaty was never signed, so technically the two Koreas are still at war with each other. The conflict, which took place between 1950 and 1953 ended in an armistice agreement that was essentially nothing more than a long-lived cease-fire.
6. It appeared as if the U.S. Senate was not going to be able to overcome its inherent tendency towards gridlock to pass its version of the tax reform bill as hoped this week. It seems that the stock market appears to be heavily betting that tax reform will happen and any delay in the process seems to consistently trigger negative reactions in stocks. In the early hours of Saturday morning, Senate Republicans had reworked enough of the bill to satisfy the majority and it was passed in the Senate by a slim margin of 51-49. President Trump immediately tweeted that Republicans were "one step closer to delivering MASSIVE tax cuts" and said he wanted to have the final, combined bill on his desk and ready to be signed by Christmas.
7. U.S. stock markets were shaken on Friday as an ABC News report surfaced that specifically stated that Michael Flynn had made contact with Russia prior to Donald Trump's election victory, while he was still on the campaign trail. ABC was forced to "clarify" and then finally "correct" its bombshell report after news came out that Flynn actually did plead guilty to lying to the FBI regarding his contact with Russia, but continues to maintain that any contact occurred after Trump was already elected as president and that his communications were for the sole purpose of formulating plans to combat ISIS in Syria.
8. Russia's foreign minister, Sergey Lavrov, said on Thursday "Washington's recent steps seem to be deliberately aimed at provoking Pyongyang to take some tough actions".  Mr. Lavrov said Washington's announcement to hold "large-scale unscheduled drills" in December have done "everything on purpose, to make Kim Jong Un lose control and make another desperate move".  Lavrov continued, saying "The Americans need to explain to us all what they are actually up to. If they seek a pretext to destroy North Korea, they should openly say so and the U.S. leadership should confirm it. Then we would decide how to respond".
9. Oil prices hovered near $60 a barrel this week as OPEC, Russia and nine other oil producing countries agreed to extend their current output cuts through the end of 2018 to attempt to boost oil prices further. The deal will be reviewed in June in case the oil market shows signs of significant improvement.
10. The euro turned slightly lower to start the week, but surged back into positive territory against the U.S. dollar by Thursday afternoon. The euro drifted sideways through Friday morning, dropping lower just as it was closing, but then surging back to ultimately close out near even for the week. The Japanese yen drifted higher to start the week, but soon began steadily moving to the downside. The yen trended steadily lower through most of the week and will close out lower against the U.S. dollar.
Geopolitical issues remain the primary focus for markets after North Korea's successful testing of what appears to be a more advanced ballistic missile with a greater range than any projectile previously tested by the North. The U.S. decision to reclassify the hermit nation as a "state sponsor of terrorism" and the immediate implementation of additional sanctions on them has appeared to serve only to push the isolated nation to make greater strides in its quest to become a true nuclear power.
If the reports surrounding the North's possible expansion of its submarine based capabilities are correct, South Korea and Japan will soon face the very real possibility that the North can move in and launch a missile targeting them from previously unguarded directions that would be behind their current radar-based detection and defense systems.
In the U.S., the Senate and the House of Representatives have finally both passed their much-publicized tax reform bills. The two governmental bodies will now begin the long and difficult task of working to reconcile the differences between the two bills. The process must be followed to completion in order to come up with a compromise version of the two bills that can then be sent to President Trump for signature into law. Trump has said that he wants a bill on his desk by Christmas, it remains to be seen if Congress can actually set aside its seemingly constant bickering long enough to finally accomplish one of Trump's legislative agendas.
The European Central Bank (ECB) warned this week that there was a "risk of a rapid repricing in global markets" due to "increased risk-taking behavior in global financial markets".
Germany's current political stalemate and the U.K.'s difficulties in its Brexit negotiations are also seen as potential triggers for a "rapid repricing" of global assets by the ECB. In other words, the ECB appears to believe that global markets, which broadly include stocks as well as crypto-currencies, are already in bubble territory and are now primed for bursting and waiting for the trigger.
Wise investors have continued their goals of keeping their portfolios diversified as market volatility has spiked to record levels. One such means of diversification is continuing with their plans to accumulate physical, tangible assets that might hold their value in the event that other assets suddenly reverse course and begin plummeting.
One such tangible asset is physical precious metals, and savvy investors have continued accumulating them as a hedge against uncertainty as temporary price dips have allowed them the opportunity to do so. Historically, physical precious metals have long been used as a form of wealth protection when global uncertainty levels begin to rise significantly due to their tendency to store and hold value throughout' the ages.
Remember that precious metals should always be viewed as a long-term investment and that the key to profitability through the ownership of physical precious metals is to actually acquire and own the physical products and to hold them for the long term. Always remember that you should never overextend your ability to maintain ownership of your precious metals over the long term.
Trading Department
Precious Metals International, Ltd.
Friday to Friday Close (New York Closing Prices)
| | | | |
| --- | --- | --- | --- |
| | Nov 24th2017 | Dec 1st2017 | Net Change |
| Gold | $1288.69 | $1279.40 | (9.29) – 0.72% |
| Silver | $17.04 | $16.36 | (0.68) – 3.99% |
| Platinum | $945.00 | $939.10 | (5.90) – 0.62% |
| Palladium | $999.00 | $1029.00 | 30.00 + 3.00% |
| Dow Jones | 23557.99 | 24251.49 | 693.50 + 2.94% |
Month End To Month End Close
| | | | |
| --- | --- | --- | --- |
| | Oct 31st2017 | Nov 30th2017 | Net Change |
| Gold | $1269.75 | $1273.95 | 4.20 + 0.33% |
| Silver | $16.69 | $16.44 | (0.25) – 1.50% |
| Platinum | $917.60 | $941.00 |  23.40 + 2.55% |
| Palladium | $984.65 | $1013.55 | 28.90 + 2.94% |
| Dow Jones | 23377.24 | 24272.35 | 895.11 + 3.83% |
Previous year Comparisons
| | | | |
| --- | --- | --- | --- |
| | Dec. 2nd2016 | Dec 1st2017 | Net Change |
| Gold | $1176.40 | $1279.40 | 103.00 + 8.76% |
| Silver | $16.80 | $16.36 | (0.44) – 2.62% |
| Platinum | $932.00 | $939.10 |  7.10 + 0.76% |
| Palladium | $748.00 | $1029.00 | 281.00 + 37.57% |
| Dow Jones | 19170.42 | 24251.49 | 5081.07 + 26.50% |
Here are your Short Term Support and Resistance Levels for the upcoming week.
| | | |
| --- | --- | --- |
| | Gold | Silver |
| Support | 1270/1255/1235 | 16.30/16.15/16.00 |
| Resistance | 1310/1340/1360 | 16.50/16.90/17.20 |
| | Platinum | Palladium |
| Support | 935/900/885 | 1010/975/950 |
| Resistance | 960/980/1000 | 1035/1050/1070 |
This is not a solicitation to purchase or sell.
© 2017, Precious Metals International, Ltd.