The Precious Metals Week in Review
April 28st, 2017
1. Geopolitics should be expected to continue to play a key role in market volatility. Uncertainty over upcoming political changes across Europe could further add to market volatility as we head into the second round of elections in France and sudden "snap" elections in the UK.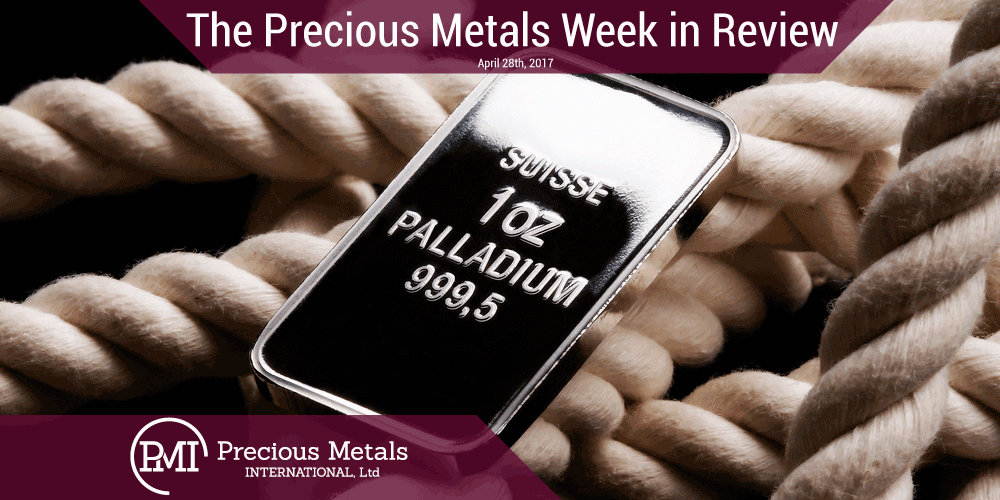 2. The number of Americans filing initial claims for state unemployment benefits surged by another 14,000 claims to a new level of 257,000 for the week ending April 22. The previous week's data was revised lower by 1,000 claims. The four-week moving average of claims dropped by 500 to a new level of 242,250 from the previous week's revised average. The four-week moving average figure from the previous week was revised lower by 250 claims.
3. The Senate passed a one-week extension bill on Friday that is designed to provide emergency funding measures that will keep the U.S. government open for another week while budget negotiations continue in Congress. The emergency spending measure passed easily in both the Senate and the House of Representatives and should keep the U.S. government operating through next Friday. Congressional leaders hope the extra week will give them enough time to achieve bipartisan agreement on a $1 trillion budget package that will finance the government through the end of the fiscal year on September 30.
4. President Trump marks his 100th day in office on Saturday and the continued dysfunction in Congress that was expected to disappear after Republicans gained control has been a huge barrier to his ability to begin attempting to fulfill his campaign promises. Friday's last-minute avoidance of a government shutdown will at least give him some positive news to discuss on his 100th day, even if it is only a 1-week extension to buy time, since his attempts to overhaul healthcare, renegotiate trade agreements and cut corporate taxes have all met heavy resistance in Congress.
5. President Trump proposed his new corporate tax structure this week, which would see the tax rate move from 35% to 15%. One administration official told CNBC, anonymously, on Thursday that the Mr. Trump also wants to substantially cut the number of corporate tax deductions. The official said "We're really looking at effective rates. When you have a 15 percent corporate tax rate, we don't believe that you have to give people a lot of deductions. And look – to pay for it you have to broaden the base. So you can't go from 35 to 15 and still allow deductions. It's just algebra".
6. Secretary of State Rex Tillerson urged the united Nations to increase its sanctions against North Korea this week. Speaking at a U.N. Security Council meeting, Mr. Tillerson said "I urge this council to act before North Korea does. We must work together to adopt a new approach and impose increased diplomatic and economic pressures on the North Korean Regime".   Mr. Tillerson also added that a North Korean attack on either South Korea or Japan is a very "real" possibility.  President Trump aired similar concerns earlier in the week when meeting with ambassadors from the Security Council at the White House. Mr. Tillerson was however, careful to state that the U.S. is not seeking a regime change and he reassured the Council that the U.S. does not want to "threaten the North Korean people or destabilize the Asia Pacific region".
7. Official data showed that the U.S. economy grew at its weakest pace in three years during the first quarter as consumers held on to their wallets and businesses cut back on inventories. Gross Domestic Product came in at an annual rate of just 0.7 percent. The economy, on an overall basis, grew at just 2.1 percent. Much of the sluggishness is being blamed on seasonality due to weather, but the weak data print is likely to add more pressure to the Trump administration's push to kick off an era of economic prosperity in the U.S.
8. China's Foreign Ministry released a statement on Friday that said Foreign Minister Wang Yi had informed a senior Russian diplomat on the sidelines of a meeting at the United Nations that the situation on the Korean Peninsula could "escalate or slip out of control".  China has also apparently informed the Trump administration that it would impose unilateral sanctions on North Korea if Pyongyang conducts another nuclear test.
9. The U.S. Terminal High Altitude Area Defense (THAAD) system which is under construction in South Korea, despite local protests in South Korea and heavy criticism from China, is expected to be operational "in coming days", according to the ranking U.S. Commander in the Pacific. Remarks by President Trump that he wants South Korea to basically pick up the entire bill for the $1 billion (US) defense system could mean some delays in full deployment though since that was apparently news to the South Korean government.
10. In France, the upcoming runoff between Emmanuel Macron and Marine Le Pen promises to be closer than analysts originally projected. Macron, a centrist appears to be slipping in the polls, though he still maintains a projected 59 percent lead to Ms. Le Pen's 41%. A projected 55% of the French population did not originally back either candidate, so there could be a wide margin of error in the polling data. There is a growing grassroots campaign by these disaffected voters to simply boycott the second round of the elections. If such a boycott happens, it is possible that a surprise victory by another supposed "outsider" candidate could be in the making as voters that pollsters might be placing in Macron's camp stay home in protest and hand the victory to Le Pen.
11. Crude oil prices slid to a one-month low this week, triggering a surge in buying ahead of next month's OPEC meeting. The production caps in place are expected to be extended at that meeting and oil investors took the price dip as an opportunity to buy oil "on the cheap".  The Baker-Hughes weekly rig count in the U.S. rose by another 9 rigs, bringing the number of U.S. operational oil rigs up to 697. Oil prices settled for the week at just under $50-a-barrel.
12. The euro surged vertically higher against the U.S. dollar at the open this week and then spent the rest of the week trading basically sideways in a narrow range. The euro appears set to close the week out higher against the U.S. dollar. The Japanese yen took a vertical dip to the downside against the U.S. dollar to start the week and then began drifting lower through late Wednesday. The yen moved sideways through the rest of the week and appears set to close the week slightly lower against the U.S. dollar.
Geopolitical uncertainty should be expected to remain the key risk factor for market volatility in the coming days ahead of the final round of the French election. The growing tension between the U.S. and North Korea also continues to play a key role in market uncertainty. In the Middle East, Israel is reported to have hit an arms supply depot believed to be operated by the Lebanese group known as Hezbollah near the Damascus airport in Syria on Thursday. Syrian state media said that Israeli missiles struck a military position southwest of the airport, but did not mention what was located at the target. Israeli Intelligence Minister Israel Katz seemed to confirm the strike, saying that "The incident in Syria corresponds completely with Israel's policy to act to prevent Iran's smuggling of advanced weapons via Syria to Hezbollah" but an Israeli military spokeswoman refused to confirm the minister's statement, saying "We can't comment on such reports".
Both Russia and Iran back current president Bashar al-Assad in the civil war across Syria that is now 6 years old. Israel has largely stayed out of the conflict, but has long made clear that it will not tolerate the transfer of advanced weaponry with the capability to strike into Israel to Hezbollah. Mr. Katz said, in an interview with Reuters on Wednesday, that he was seeking an "understanding" with the Trump administration that Iran not be allowed to establish a permanent military presence in Syria.
In Europe, the race between Centrist Emmanuel Macron and far-right Marine Le Pen in the second round of French elections appears to be growing tighter. The outcome of the election will likely hinge entirely on voter turnout, or lack thereof. With many potential voters feeling apathetic about each candidate, there is a real risk that Ms. Le Pen could come close to gaining the presidency. If she does win, it could spell disaster for the eurozone as a whole since she has made it very clear that she would hold a referendum on whether France should remain in the EU.
In the UK, Prime Minister Theresa May has called for "snap" elections in an apparent bid to cement additional parliamentary seats for her party as the real negotiations for the UK's exit from the European Union get under way. Ms. May is taking a serious risk by making such a move, as it could put the entire "Brexit" process at risk if she is not correct about the public's opinion of her party.
Finally, late on Friday North Korea launched yet another ballistic missile which exploded soon after it left the launchpad. Markets were closed when the new broke, so Sunday's open in Asia could be extremely interesting. As usual, it will be important to monitor global news outlets over the weekend for potentially market-moving news that could lead to higher precious metals prices from here.
This week marks the end of April, which usually represents tax season in many countries, and it is possible that some of the selling in precious metals this week was influenced by tax-related moves as investors tried to minimize their tax burdens.
Remember that precious metals should always be viewed as a long-term investment and that the key to profitability through the ownership of physical precious metals is to actually acquire and own the physical products and to hold them for the long term. Always remember that you should never overextend your ability to maintain ownership of your precious metals over the long term.
Trading Department
Precious Metals International, Ltd.
Friday to Friday Close (New York Closing Prices)
| | | | |
| --- | --- | --- | --- |
| | Apr. 21st 2017 | Apr. 28st 2017 | Net Change |
| Gold | $1287.29 | $1267.20 | (0.69) – 3.85% |
| Silver | $17.93 | $17.24 | (20.09) – 1.56% |
| Platinum | $976.00 | $947.50 | (28.50) – 2.92% |
| Palladium | $796.00 | $829.70 | 33.70 + 4.23% |
| Dow Jones | 20547.76 | 20940.51 | 392.75 + 1.91% |
Month End to Month End Close
| | | | |
| --- | --- | --- | --- |
| | Mar. 31st 2017 | Apr. 28th 2017 | 18.00 + 1.44% |
| Gold | $1249.20 | $1267.20 | $1249.20 |
| Silver | $18.24 | $17.24 | (1.00) – 5.48% |
| Platinum | $949.70 | $947.50 |  (2.20) – 0.23% |
| Palladium | $798.50 | $829.70 | 31.20 + 3.91% |
| Dow Jones | 20663.22 | 20940.51 | 277.29 + 1.34% |
Previous year Comparisons
| | | | |
| --- | --- | --- | --- |
| | Apr. 29th 2016 | Apr. 28th 2017 | Net Change |
| Gold | $1288.60 | $1267.20 | (21.40) – 1.66% |
| Silver | $17.77 | $17.24 | (0.53) – 2.98% |
| Platinum | $1076.40 | $947.50 |  (128.90) – 11.98% |
| Palladium | $627.15 | $829.70 | 202.55 + 32.30% |
| Dow Jones | 17773.64 | 20940.51 | 3166.87 + 17.82% |
Here are your Short Term Support and Resistance Levels for the upcoming week.
Gold                        Silver
Support               1260/1240/1220              17.90/17.50/17.20
Resistance          1290/1310/1340               18.35/18.75/19.15
Platinum                      Palladium
Support              930/880/860                     790/740/710
Resistance          975/995/1025                    815/840/875
This is not a solicitation to purchase or sell.
© 2017, Precious Metals International, Ltd.