The Precious Metals Week in Review
April 13th, 2017
1. The holiday schedule for Easter resulted in a shortened trading week. It was news-heavy, despite the short week, as geopolitical tensions continued to escalate around the globe.
2. The number of Americans filing initial claims for state unemployment benefits slipped by 1,000 claims from the previous week's revised figure to a new level of 234,000 for the week ending April 8. The previous week's data was revised higher by 1,000 claims making the true move in claims essentially a net zero for the week. The four-week moving average of claims dropped by 3,000 to a new level of 247,250 from the previous week's revised average.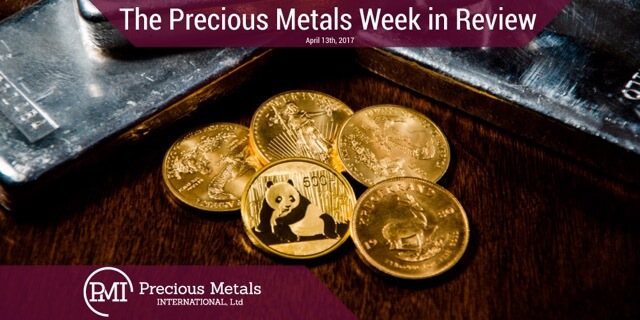 3. Noted hedge fund manager Leon Cooperman wrote in an April 7 letter to clients that "It is time for the U.S. equity market to rest".  He further went on to say that he expects that the stock market will be "trendless/uninteresting at around current levels for a number of months", apparently due to continued geopolitical risk and the possibility that President Trump and the Republican-led Congress might not be able to see past their differences to be able to make any progress on his economic agenda.
4. In an interview with the Wall Street Journal this week, President Trump said "I think our dollar is getting too strong, and partially that's my fault because people have confidence in me. But that's hurting—that will hurt, ultimately".  President Trump also seems to have softened his stance on Janet Yellen in her role as Fed Chairman, based on comments made during the interview. Diane Swonk, CEO of DS Economics, commented on the interview, saying "If any of [Trump's] budgets are really realised, they're deficit-inducing and he wants to keep interest rates low. Any president that's wanted to keep interest rates low has ended up with a lot of inflation, like Truman, Johnson and Nixon".
5. Geopolitical uncertainty surged this week in the aftermath of last week's missile attack on Syria and rising tensions between the U.S. and North Korea. The U.S. military announced on Sunday that it had sent a carrier strike force group into the waters off the Korean Peninsula. According to a U.S.-based satellite analysis group called 38 North, Kim Jong-un's regime may be preparing to conduct a 6th nuclear test, possibly as early as this Saturday.  Shawlin Chaw, senior analyst at Control Risks, told CNBC this week that "It is highly likely that North Korea would engage in some form of provocation, [such as] another missile launch or even a sixth nuclear test, on or around April 15. The DPRK has stated it is ready for war in response to the U.S. show of force this week and will most likely use the politically sensitive date to retaliate and reinforce its legitimacy with its own people".  April 15 is a significant date in North Korea, as the country celebrates the birthday of Kim Il-sung – the grandfather of Kim Jong-un.  The date is usually marked by parades and drills that display military hardware and North Korea's anger over the incoming carrier force could mean a more potent display than usual.
6. U.S. Secretary of State Rex Tillerson flew to Moscow this week to meet with President Vladimir Putin and Sergey Lavrov, Tillerson's Russian equivalent. Tillerson said at a press conference following his meetings that the two countries had agreed that terrorists should be removed from Syria and that North Korea should be denuclearised.  There was apparently no agreement over precisely who was behind last week's chemical weapons attack in Syria. The U.S. has widely blamed Syrian President Bashar Al-Assad for the attack, while Russia maintains that the rebels in Syria staged the incident to falsely place blame on Assad. Russia continues to support the legitimacy of Al-Assad's regime and view last week's missile launches by the U.S. as an "unlawful" attack.
7. Japanese Prime Minister Shinzo Abe commented on Thursday, to a parliamentary panel on national security and diplomacy, that he believed North Korea may be capable of firing a missile containing Sarin nerve gas towards Japan.  The comments come at a time when a U.S. carrier strike force heads into the region, and when concerns are rising that North Korea may be advancing its Submarine Launched Ballistic Missile program faster than previously expected.
8. In Turkey, voters head to the polls this weekend to vote in a referendum on a new draft constitution. The change would dramatically increase the powers of current president Recep Tayyip Erdogan.  A "yes" vote in the referendum would shift Turkey from a parliamentary to a presidential republic, placing significantly more power and additional influence into the hands of Erdogan, who aggressively cracked down on Turkish citizens in the wake of a recent failed coup attempt.
9. Crude oil prices pushed to a 5-week high as Libya's largest oil field reported an outage and global geopolitical tensions continued to escalate. On Sunday, Libya's Sharara oil field was shut down after a group blocked a pipeline that links it to an oil terminal. Comments from the International Energy Administration that the oil market may be "nearing balance" helped boost prices this week as well, but news of further production gains in the U.S. market acted to keep a ceiling on them.
10. The euro opened the week dipping slightly against the U.S. dollar, but then began drifting higher in a series of plateaus until late Wednesday when the euro surged vertically higher. The gain was short-lived as the euro entered trading on Thursday and began dropping back near it's starting point for the week. A slight recovery late Thursday morning should still see the euro close to the upside against the U.S. dollar for this shortened trading week. The Japanese yen started the shortened week with a brief dip against the U.S. dollar, but soon began a steady march higher. The yen seemed to hit a plateau late Wednesday which lasted well into Thursday's trading. A short spike higher on Friday will ensure that the yen also closes the week higher against the U.S. dollar.
The shortened trading week ahead of the Easter holiday means that there could be an increased risk of market-shaking news events over the long weekend. Late on Thursday, reports surfaced that the U.S. had dropped a weapon known as "The Mother of All Bombs" on a cave and tunnel complex in a province of Afghanistan. The GBU-43 bomb is the most powerful non-nuclear bomb in the U.S. arsenal and this marks the first time that it has ever been used in combat. The bomb was dropped on a complex of caves believed to be housing Islamic State fighters. White House spokesman Sean Spicer said in his daily briefing that the caves were used by ISIS to "move around freely" and that the U.S.' move was designed to curb their ability to do so. Mr. Spicer directed all further questions about the operation to the Department of Defense. The U.S.' clear willingness to engage militarily, both with the most recent bombing in Afghanistan and in light of last week's Syrian missile attack, could lead to seriously increased tensions in the Korean Peninsula this weekend as North Korea celebrates the birthday of its founder. A carrier strike group, led by the USS Carl Vinson, was diverted towards the Korean Peninsula on Sunday and the North warned, through its state media, that it could conduct a "nuclear attack" at any sign of American aggression. The North's Rodong Sinmun newspaper said "Our revolutionary strong army is keenly watching every move by enemy elements with our nuclear sight focused on the U.S. invasionary bases not only in South Korea and the Pacific operation theater but also in the U.S. mainland".
Some analysts theorize that North Korea might actually be bold enough to attempt a test launch of a missile towards the carrier strike group over the weekend as a show of force during the celebrations of their founder's birthday. Any such display would obviously be met with a matching show of force by the U.S., perhaps even as drastic as shooting any projectile launched by the North out of the sky. Any significant news over the long weekend could potentially have a dramatic effect on markets when they reopen for trading next week, so it will be vital to monitor media outlets for events that could be of major importance to markets. Savvy investors continue to seek out ways to make sure that their portfolios are diversified against over-exposure to any single asset class during these times of increased uncertainty. One such means of diversification is to accumulate and hold physical precious metals when buying opportunities in the form of any temporary price dips present these wise investors with the chance to do so. Increasing geopolitical tensions and rising inflation could trigger a flight to "safe haven" assets, and physical precious metals have historically been viewed as some of the safest of such havens. Remember that precious metals should always be viewed as a long-term investment and that the key to profitability through the ownership of physical precious metals is to actually acquire and own the physical products and to hold them for the long term.
Always remember that you should never overextend your ability to maintain ownership of your precious metals over the long term.
Trading Department
Precious Metals International, Ltd.
Friday to Friday Close (New York Closing Prices)
| | | | |
| --- | --- | --- | --- |
| | Apr. 7th 2017 | Apr. 13th 2017 | Net Change |
| Gold | $1255.20 | $1286.90 | 31.70 + 2.53% |
| Silver | $18.18 | $18.54 | 0.36 + 1.98% |
| Platinum | $955.00 | $974.50 | 19.50 + 2.04% |
| Palladium | $801.00 | $797.00 | (4.00) – 0.50% |
| Dow Jones | 20659.34 | 20453.25 | (206.09) – 1.00% |
 Previous year Comparisons
| | | | |
| --- | --- | --- | --- |
| | Apr. 15th 2016 | Apr. 13th 2017 | Net Change |
| Gold | $1234.60 | $1286.90 | 52.30 + 4.24% |
| Silver | $16.31 | $18.54 | 2.23 + 13.67% |
| Platinum | $990.00 | $974.50 | (15.50) – 1.57% |
| Palladium | $568.00 | $797.00 | 229.00 + 40.32% |
| Dow Jones | 17897.46 | 20453.25 | 2555.79 + 14.28% |
Here are your Short Term Support and Resistance Levels for the upcoming week.
                                            Gold                             Silver
Support                       1260/1240/1220          18.35/17.90/17.50
Resistance                   1290/1310/1340          18.75/19.15/19.50
                                       Platinum                    Palladium
Support                       930/880/860                790/740/710
Resistance                   975/995/1025              815/840/875
This is not a solicitation to purchase or sell.
© 2017, Precious Metals International, Ltd.